Add Comment |
Related Links |
TrackBack

Related Content
problem installing driver for Micro Digital Camera 24280-M
I purchase your Micro Digtal Camera
Item # 24280-M from Radio Shack.
The driver CD will not accept
XP Professional with neg. results
Telling me to check with your provider
etc.
Can you Help me with this.
Thanks
Al Leon Sr
Thu, 09 Nov 2006 21:39:54 -0800
I just bought me one of these el-cheepo's too. My camera wouldn't work at first either. So, I read the instructions. It says to make sure the camera is un-pluged while loading the software. After the install, and the computer reboots, plug it in. It should recognize the drivers then. You should go into control panel and remove the first installation prior to re-installing.
My camera works, but it leaves a lot to be desired. But, for 20 bucks, it's ok.
john manly
Wed, 22 Nov 2006 19:22:36 -0800
Found it!!!! I just bought one myself, and I was getting really pissed cuz I dont think mine came with a driver, no matter how many times i unplugged the stupid camera and restarted my comp and stuff. ANYWAYS.
Look here.
And search for 24280
DChen
Wed, 22 Nov 2006 20:36:58 -0800
THIS IS REAL BULLSHIT....I CANT GET MY CAMERA TO WORK...I PLUG IT UP TO THE COMPUTER, IT SAYS THE DEVICE CANNOT BE RECOGNIZED....I TRY TO UPLOAD PHOTOS AND THE PROGRAM SAYS I DONT HAVE ANY PHOTOS IN THE CAMERA...I HATE THIS!!!!
D-BLOCK
Tue, 28 Nov 2006 17:05:27 -0800
I have the same exact problem except I don't even have my installation disk! I've tried so hard to install it whithout the disk but it will not work. Any idea how to install it?
Regina
Wed, 29 Nov 2006 19:45:17 -0800
lol
i also have problems with that piece of shiznit. how do you know when it has charged. the book says the light will turn green but it never does, it stays red. cause i left it charging for an entire day and it never turned green. also when the battery died and i tried to recharge it, it won't recharge. i plug it in, the light turns red, the screen says "PC" and it stays like that. i can take pics while it is plugged into the computer but when i unplug it, the screen turns blank and won't turn on. WHAT THE HELL!
shizzle
Sat, 09 Dec 2006 10:01:23 -0800
OK..So I Downloaded The software...that's all good. The camera is charged...that's ok...NOW WHY CAN'T THE STUPID THING TAKE PICTURES? Need all your HELP!!!
Tiff
Sun, 10 Dec 2006 17:18:44 -0800
i have one of these and its frustrating to use.I managed to take a few pictures but i tried using it again and it keeps beeping after trying to take a new picture.i read the manual and it said it beeps repeatedly to tell you the memory is full..so it tells you to press CA to delete everything..i did that and i still hear the beeps..so how can i take anymore pictures?a camera shouldnt be so hard to use.lol.and lol on the recharger light turning green...i charged it for 8 hours and it still stayed red.lol
ted
Sun, 10 Dec 2006 23:16:31 -0800
Yeah, so I just got this camera and I tried to install it all day. It kept saying it wasn't recognized. So I hooked up my other camera usb cable to it. It worked. I think something is wrong with all of the cables since it seems that everyone is having the same problems.
Stacey
Mon, 11 Dec 2006 13:30:34 -0800
... I kindly ask. WTF. You would think a company wouldn't release an OBVIOUS beta product to the general public, but here Sakar has done it (have you seen their crappy website? EWWWW). I hope whoever made the decision to release this product early is shot in the foot.
Angry Pants
Thu, 14 Dec 2006 20:47:36 -0800
this PIECE OF CHEAP MIERDA sucks. I have the installation CD, but it says DRIVER NOT FOUND. SO, I clicked on the link above to manually instal the driver, and it was sucessful. Then, I took 4 pictures and when I went to upload them, it says "NO pictures found". What a waste of $20... grrrrrrrrr...........
Attached Image: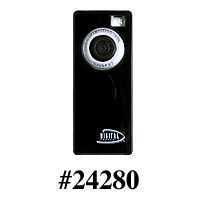 Cam_24280.jpg
cynthia
Sat, 16 Dec 2006 14:24:50 -0800
has anyone figured out how to get the photos to upload into the stupid program? it continously tells me NO photos on camera. please helpppppppppp
cynthia
Sat, 16 Dec 2006 14:49:38 -0800
i lost my manual to this camera,if any one can tell me what the symbols on the lcd screen mean that would be great.
philadelphia
Sat, 16 Dec 2006 17:31:51 -0800
Well ted, i established that the light never turns green even when it has fully charged so you'll just have to charge it for as long as possible to ensure that it has fully charged. i also established that the camera beeps repeatedly to tell you that there is not enough lighting to take the photo so move to a brighter area or turn on the lights if you're indoors. test it and see for yourself. try taking out a picture in the dark then you'll hear the beeps then try it in the light, thats what i did to realize that.
And cynthia, to upload photos attach the camera to your computer and open the file "PhoTags Express " then click "GET PHOTOS" and make sure "VGA Dual-Mode Camera" is selected and click next and select where you want the pics to go and click finish. if that dosen't work i dont know what else will.
And philadelphia, the symbols are:
OF - turn off the camera
SE - auto-shoot mode (activates the 10 sec timer)
CE - continuous-shoot mode (press and hold shutter release to stop. the camera beeps once per photo taken)
Al - video mode (press and hold shutter to take videos release when finished)
CA - delete ALL photos
CL - delete LAST photo
F6 - flourescent lamp frequency (60HZ)
F5 - flourescent lamp frequency (50HZ)
Lr - low resolution
Hr - high resolution
nP - nan-compression
CP - high compression
the default setting is Hr and CP which takes 40 photos. Hr and nP takes 10 photos. Lr and nP takes 50 photos. and Lr and CP takes 102 photos.

superman aka shizzle
Tue, 19 Dec 2006 12:51:01 -0800
Same promblem, the drivers dont work on XP pro
Pissedoffperson
Sat, 23 Dec 2006 17:58:13 -0800
I've had ALL the problems described. Even downloaded the driver from Sakar's site.
Finally tried Ted's suggestion and all of a sudden Windows XP reconized a new device when hooked up with the USB cable from my Nikon. Now to see what comes next.
charlie
Mon, 25 Dec 2006 12:03:18 -0800
I have done everything that i could do with this camera, everything that Ted's camera was doing, mine is, the beeps, red light that don't turn green, it won't go off of pc, I even went to the website to download the driver for it. My husband and I are thinking of putting a lawsuit on them for a faulty camera. If anyone can help me with this problem please help.
Thanks
Christi
christi blakley
Sun, 31 Dec 2006 04:49:08 -0800
hi! i received my micro cam for christmas a a gift & have tried ever since christmas to download the disc & use this cam. i have even sent an e-mail to the co. & asked for help; however, i have heard nothing in return. i would love to use this product because i love pictures, but if i can't down load the disc it is totally useless to me.
Sun. 31, 06 @ 6:24pm
JEANIE
Sun, 31 Dec 2006 18:22:29 -0800
My damned disk won't even work. It's bullshit. AVOID AT ALL COSTS!!!!!!!!!!
gotta find a damned compatible driver now. piece of shit... oh... and the stupid fuck shack has the balls to ask me if I want a waranty with this piece of crap.
NO, GIVE ME MY DAMNED MONEY BACK YOU ASSES!!!
frustrated camera hacker
Wed, 03 Jan 2007 20:26:42 -0800
i brought a sakar camera and i can not hook it up it wont work i have tryed everything where can i take it or who do i send it to please let me know asap
sinsierra
Thu, 04 Jan 2007 17:06:40 -0800
i have bought the micro digital camera model #24280 but when i went to install the components of the cd it messed up my computer i was wondering if i could install the smae components that come with the cd from somewhere else.
javier
Sun, 14 Jan 2007 14:36:22 -0800
wow seriously why would sakar do this to ppl if ur going to ever use a beta dont sell it in public or mass produce it cause thats just plain cheap but yes anyway ive tried installing it and it doesnt not recognize my camera im going to try with a diff usb cable to see if it works.
javier
Sun, 14 Jan 2007 14:44:26 -0800
yeah i got one of those micro pieses of shit to! i just cant find any software or drivers ....can some one tell me what to do plz? oh and heres a pic of it!
jordan
Sat, 20 Jan 2007 18:05:53 -0800
If anybody has this product, return it to the store IMMEDIATELY and get your money back.. Don't wait, do it NOW!! This camera is just total garbage.. Trying to make it work is a total waste of time, it won't. Period.. You're wasting your time.. Why are you still reading this? Wasting more time? Take it back!! If you can't take it back, just throw it out (as I did).. I'm sure it won't break your mommy's heart seeing the el-cheapo christmas gift she gave you going out with the trash.. My little sister got this camera for christmas, and my mom lost the recipt so she can't send it back.. So for me, it's going straight into the trash.. You can call their tech support if you enjoy talking to somebody from India who says things such as... "Must install software before can plug in!!!" "Have you booting now?".. And my personal favorite... "Are you sure computer on?".. Yes dude, I'm pretty damn sure I know how to turn my computer on.. Have fun...
1-877-397-8200
1-732-476-5086
Sakar, worst company ever.. NONE of the drivers are certified by Microsoft.
David Smith
Sat, 03 Feb 2007 21:55:03 -0800
This thing is a piece of crap, no doubt about it.
But I did finally get it to work by using a different USB cable.
TRY THAT BEFORE YOU START INSTALLING NEW THINGS.
ANNOYED
Sat, 10 Feb 2007 12:56:10 -0800
The damn light won't even come on or anything. I can't believe I wasted $20 on this piece of shit.
Mad as Hell
Fri, 06 Apr 2007 13:57:18 -0700
This camera is Stupid! I want my money Back! you guys suck. I can't instal! you guys are repoffs! you are the stupids company ever!
Jenny
Sun, 08 Apr 2007 12:48:31 -0700
I bought this camera in December, and it was working decently until now. Now... when I have it plugged into the USB port and charging, it says PC on the screen and the Webcame express program works fine... but when I unplug it and turn the switch to camera nothing happens and it won't turn on... does anyone have any clue what's going on or how to fix it???
Shell
Wed, 18 Apr 2007 14:53:12 -0700
No matter what I try the pictures wont download and every time i turn off my computer its looses the driver
Given up
Fri, 20 Apr 2007 19:05:00 -0700
I'VE GOT THE SAME PROBLEMS. I GOT THE CAMERA TO WORK ONCE. THE PICS CAME OUT OK BUT I CAN'T REUSE THE CD TO INSTALL IT ON ANOTHER PC. THE LITTLE SHIT KEEPS SAYIN DRIVER OPEN FAIL.........I WANNA SUE 2..SO MUCH FOR THINKIN I HAD THE COOLEST CAMERA EVA.......HMMMMMM
pissedofftoo
Wed, 02 May 2007 06:44:52 -0700
the camera little camera was given to me by a friend, without the software, is there anyway to download it somewhere on the internet?
is it call photags express?
wutang
Sun, 13 May 2007 17:04:14 -0700
I've got almost every single problem listed here. I managed to find a driver that will let me transfer pics, but it won't let me charge the stupid thing so of course there aren't any pics on it! This thing is terrible
Irritated
Tue, 24 Jul 2007 19:32:57 +0000
ok so i had thsi camera for a while and it didnt come witha cd so i had to down load the files, which was frustrating. now i had them and everything was working,then my computer crashed, i got teh program back, but it wont recognise any camera on my computer. im so confused how do i get it to find my web cam!?
-Alexis
Alexis
Fri, 27 Jul 2007 08:22:53 +0000
OMFG...I HAVE ALL OF THE PROBLEMS.....-_-, i should have listened to my mom and picked the mp3 player.....i need to tell her when she gets home that we need to take it bac.........
Diamond Love
Sat, 04 Aug 2007 22:17:29 +0000
My sister bought the stupid thing for- what else?- Myspace pictures. On the way home, she took a few pictures. The CD installed just fine, and it was finally plugged in. But I'm getting that stupid 'Driver open fail' message and it won't even turn on.
It anyone else's charger/camera switch on the side loose? Mine sorta falls out of place if it's held upright...
Grrr
Wed, 05 Sep 2007 12:36:51 +0000
U knw wat i got this camera 2day and every problem listed i have. Well i guess ima take mine back right now. Good luck wit yalls camera.
anonymous
Thu, 20 Sep 2007 12:16:32 +0000
I just bought this camera and it doesn't work! Cheap Wal-Mart Basterds riped me off! Don't buy it if you do return the shit!
Gabriel
Wed, 26 Sep 2007 00:42:18 +0000
i bought dis camera two days ago an up to now i havent seen a screen muchless bn able to get it work cn u tell me how to operate this thing.its d 24280 digital camera are so they say
colin
Sat, 03 Nov 2007 16:29:16 +0000
i cant install this software help me please. ihave been trying to install it for the last two days. if it dont get installed soon i want my money back. but i really want to get this install so PLEASE HELP ME SOON.
Sunnie
Sun, 16 Dec 2007 22:36:42 +0000
look i have no CD i need help to install
anthony
Fri, 28 Dec 2007 03:19:48 +0000
this has got to be the WORSE investment of my life. these damn cameras need to be recalled n everybody need to get they damn money back. there is too many ppl with the same problems, including me, for these things to continue being sold. Pissed off Jon
Pissed off Jon
Fri, 07 Mar 2008 07:12:25 +0000
i just bought one of these damn cameras and the Disk driver dont F*cking work ..What's the purpose of putting a cdrom for us to download when it DOESNT WORK.Anybody know how to install this sakar driver ???
Tammy
Sat, 29 Mar 2008 00:57:08 +0000
Yeah i have one of these piece of shit cameras too i got the green light to work ok and i even got the comp to read the drivers and install on xp pro however i cant take photos i cant take video and it seems like the only thing i got for 30 bucks thats right 30 bucks is a green nightlight.
Screwed in New york
Fri, 11 Apr 2008 06:50:11 +0000
So i called customer support for the hell of it at 3am and got a guy who told me that everyone was gone????? and that they would call me tommorow morning at 10 am est. He seemed to speak some english not proficiently and all i could think was well if everyone went home then what the hell are you doing there and why cant you field my call..... I will post again tommorow and let you know how this crazy shit goes. Insanity.
Screwed in New york
Fri, 11 Apr 2008 06:59:39 +0000
Update: It's 6:42am and all is quiet at sakar.... The mysterious man is gone and now i am listening to this cheezy hold music that has been playing for the last 4 minutes i wonder if i were to just stay on the line till 10:00am est what would become of me? The mystery man where did he go and why? I did find drivers for downloading at www.sakar.com and some neat info.... If you have your camera on charger mode it will not charge whatever genious thought of that should be shot.... no my frinds charger mode is only for having your camera off for long periods of time.... Ingenious!!!! Anyways i am still waiting on hold and the music continues.... once i get an agent i will post again and trust me they are going to be happy to help me and when they do i will help all of you. I hate companies like this that think they can screw the american public. Viva la revolution!!!!
Screwed in New york
Fri, 11 Apr 2008 10:47:10 +0000
Update #2: It is now 7:55am and the mystery man is back asking me for my name and phone number to schedule a call back i could go off on him but i think i will just wait and let my pent up anger build some more.... To clarify what i was saying earlier the camera will only charge in camera mode eventually it will turn green trust me. The cd is a joke as the autorun program isnt even in the right format. I have it green charged and still cannot use the webcam function and still cannot take pictures.... I have been reading everyones posts and i am in agreement with all of you however i believe that this product must work.... I remain an optimist about this though inside i know i am simply Screwed in New york.... The only good feature that this product has is a packaging thats so vague i asked for my reciept which i never do so it goes like this.... Either these people help me with this product in approximately 2 hours or i will be returning it to the store with a printout of this forum and speaking about this product and no longer carrying it to the store manager.... Until then my friends stay vigilant and await the next entry in the trials and tribulations of Screwed in New york.
Screwed in New york
Fri, 11 Apr 2008 12:03:34 +0000
Update #3: So.... I called sakar after waiting for about an hour this morning after 10:00am est.... And spoke to someone who actually could pronounce words.... I troubleshooted my camera only to be told that it was junk..... Like i didnt already know that.... They said they would ship out a replacement camera along with drivers and a usb cable and a neck lanyard and a new stand for it. There was no verification that i ever purchased a camera from sakar so i think you guys can read between the lines.... and a new camera will be arriving in 3 weeks.... I was told to send in the old camera which was about the point where i blew up. I told them that i was not and i do mean not going to send in the camera after purchasing it why should i have to spend anymore on a product thats junk. After being placed on hold i then provided my name and address to them and was told of the shipping arrangements. So guys i will let you know in 3 weeks if this one works but if you have a problem just READ BETWEEN THE LINES!!!! Till then im still Screwed in New york.
Screwed in New york
Fri, 11 Apr 2008 18:07:06 +0000
So here we are a month later.... No camera nothing.... I called the "wonderful" people at Sakar to be told that the camera was not in stock and that i would recieve one in.... You guessed it another 3 weeks.... So here i sit cameraless but not without a gain. I returned the camera that was defective to the store and got a full refund and now i am going to get this one for free. If you know anyone who wants a free camera just follow my advise and have them do as i have done. I plan to have everyone i know call for their "Free" camera. I also have lodged a complaint with the BBB which are at www.BBB.com if anyone is interested in forming their own complaint. So in three more weeks i will let you know whats up until then you guessed it Im Still Screwed in New york.
Screwed in New york
Wed, 07 May 2008 20:13:54 +0000
EVERYONE WHO HAS PROBLEMS WITH A SAKAR CAMERA LISTEN UP...IF YOU GET A NEW USB CORD THE PROBLEM WILL BE CORRECTED.
Jordan Church
Tue, 27 May 2008 01:57:20 +0000
The disk was broken when I opened the camera... Anyone know where I can download the software to install the damn thing???!!! My E-mail is [email protected]
Kiffer
Wed, 04 Jun 2008 23:42:08 +0000
after reading these, i came across a lot of those problems.
and i was still able to get this to work!!!!
its not that hard.
all because your incompetent doesn't mean the product sucks.
i use it. its worked for me for almost a year.
$20 good deal. if you know how to use it.
fucking idiots.
here's a good challenge, try to get it to work on Linux!!!!
damion
Sat, 13 Sep 2008 06:19:39 +0000
will i just got one of those cameras and it sucks ,it wont even work on a windows vista. i was woundering if there is a download i could get to get it to work on my new computer
pauline rager
Fri, 10 Oct 2008 03:01:54 +0000
So yeah I bough this camera a long while ago had it hooked up my mum's laptop and it worked okay...but i went to hook it up to my comp and the stupid thing wont even work..now i gotta go out and waste more money on a new camera...this sucks royally should have just saved my money and bought a better one in the first place
Kira
Tue, 19 Jul 2011 16:36:24 +0000
Add Comment |
Related Links |
TrackBack

Related Content
Did your message disappear? Read the Forums FAQ.
Spam Control | * indicates required field
TrackBack only accepted from WebSite-X Suite web sites. Do not submit TrackBacks from other sites.
Send Ping | TrackBack URL | Spam Control
No TrackBacks yet. TrackBack can be used to link this thread to your weblog, or link your weblog to this thread. In addition, TrackBack can be used as a form of remote commenting. Rather than posting the comment directly on this thread, you can posts it on your own weblog. Then have your weblog sends a TrackBack ping to the TrackBack URL, so that your post would show up here.
Messages, files, and images copyright by respective owners.