Add Comment |
Related Links |
TrackBack

Related Content
Thinnest Digital Camera
What are some of the thinnest digital cameras in the world? Do they have zoom? Advanced controls are a plus. Show me some pictures please.
I like to get one to fit in my pocket. I'm wearing a tux at a wedding, so I like to get a thin camera that fits.
Mike
Sat Apr 9 09:52:39 PDT 2005
The thinnest digital camera I have seen so far is the Sony Cyber-shot DSC-T11 digital camera.
Anyone seen thinner?
Chieh Cheng
Fri, 14 Oct 2005 17:24:58 -0700
ya check out the Sony DSC-T7 it's only .6 inches thin and for lower quality check out Casio's EX-600 which is also only .6 inches thin
James G
Tue, 25 Oct 2005 00:20:41 -0700
Here is a pic of the DSC-T7.
Attached Image: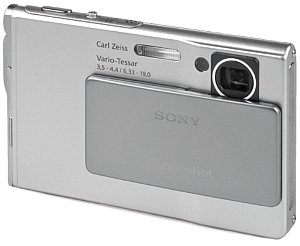 DSC-T7.jpg
Walt
Tue, 25 Oct 2005 01:25:00 -0700
This: Creative CardCam is 6mm thin.
Joe
Fri, 2 Dec 2005 22:44:49 -0800
Right now, Casio Exilim line has some of the thinnest digital cameras. The Casio Exilim EX-S10, for example, is only 15mm (0.59 inches) thick. When you turn it on, it extends the lens quickly so that it's almost ready to shoot immediately. I recently bought one for my wife and she has been extremely happy with it.
Chieh Cheng
Thu, 18 Sep 2008 14:37:07 +0000
great cameras!... I've bought/upgraded to 3 different CASIO EXILIM camera's. I had the 5.0 megapixel, 6.0 and now I have a 10.1 megapixel. It really is extremely thin, and takes very good pics. Easy to use interface too.
Danell
Mon, 18 Jan 2010 12:11:23 +0000
Add Comment |
Related Links |
TrackBack

Related Content
Did your message disappear? Read the Forums FAQ.
Spam Control | * indicates required field
TrackBack only accepted from WebSite-X Suite web sites. Do not submit TrackBacks from other sites.
Send Ping | TrackBack URL | Spam Control
No TrackBacks yet. TrackBack can be used to link this thread to your weblog, or link your weblog to this thread. In addition, TrackBack can be used as a form of remote commenting. Rather than posting the comment directly on this thread, you can posts it on your own weblog. Then have your weblog sends a TrackBack ping to the TrackBack URL, so that your post would show up here.
Messages, files, and images copyright by respective owners.