Add Comment |
Related Links |
TrackBack

Related Content
Camera Hacker is Now on Instagram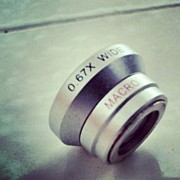 Yesterday, we installed Instagram on the Google Samsung Galaxy Nexus Android phone and the desire to shoot with the phone became uncontrollable. It's just so much fun taking photographs and applying various filter to evoke a emotion. And that's what we try to do with the Camera Hacker stream on Instagram; just have fun and share photographs of everyday objects.
Please join us on Instagram by following "CameraHackers". (Yah... "CameraHacker" was already taken by someone else. But we are all in it together, right?)
To entice you, take a look at this macro flower photography on Instagram: Photo by camerahackers. We took this photograph using the Google Samsung Galaxy Nexus with a macro lens. Isn't it amazing what cellphones can do today?
Camera Hacker
Sat, 29 Sep 2012 01:16:36 +0400
Our Instagram motto: Love photography. "Love cameras. Love improving cameras to create better photographs."
We will follow you on Instagram if you follow us and send us a message (@camerahackers). We require the message in order to avoid spammers and bots.
Want to see our full gallery? See our portfolio on Instaprints - Camera Hacker - Fine Art and on camerahackers's Instacanv.as Gallery.
Camera Hacker
Tue, 02 Oct 2012 01:32:50 +0400
We now have a Instagram gallery page that shows twenty of our newest photographs. Take a look here: Our Instagram Gallery
Camera Hacker
Thu, 11 Oct 2012 01:44:40 +0400
Add Comment |
Related Links |
TrackBack

Related Content
Did your message disappear? Read the Forums FAQ.
Spam Control | * indicates required field
TrackBack only accepted from WebSite-X Suite web sites. Do not submit TrackBacks from other sites.
Send Ping | TrackBack URL | Spam Control
No TrackBacks yet. TrackBack can be used to link this thread to your weblog, or link your weblog to this thread. In addition, TrackBack can be used as a form of remote commenting. Rather than posting the comment directly on this thread, you can posts it on your own weblog. Then have your weblog sends a TrackBack ping to the TrackBack URL, so that your post would show up here.
Messages, files, and images copyright by respective owners.