Add Comment |

Related Links |

TrackBack


Related Content
Product Shot Trick #1: Use a Business Card
Do you love shooting product shots of your camera gear? I do and you'll see my product shots littered throughout the Camera Hacker web site. But I don't just shoot product shots for the web site. I also have various product shots in my own photography collection. You see, to me, product shots are not only to give a good visual representation of the product, but they are also an art form. Product shots could be as simple as a shot of the front, back side, top, and bottom of a product; a basic WYSIWYG photograph. Or it could be a detailed shot to emphasize the artistic elements of a product. Product designers spend a lot of time and effort putting their art into the products they design. Why not emphasize them in the product shots? See, I love to shoot the marvelous curves on a Ferrari. And sometimes the shots of the beautiful sexy curves are better representations of the product than the basic product shot.
When I shot the Panasonic Lumix DMC-LX1, an awesome P&S camera that is capable enough for pro photographers, I wanted to emphasize its beauty. So rather than shooting standard product shots, I emphasize on capturing the art form. One of the shot I wanted is shown below. This shot is made to emphasize the Leica DC Vario-Elmarit lens, yet show how its beautiful rounded shape harmonizes with the contrasting rectangular body. I also wanted to use the smoked glass table as the background. The color combination just worked.
Attached Image: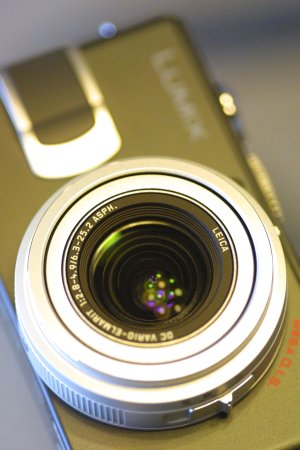 Leica DC Vario-Elmarit Lens.jpg
Chieh Cheng
Sat, 1 Apr 2006 14:36:57 -0800
The problem with making this shot is that the Panasonic Lumix DMC-LX1 must lie on its back on the glass table, meaning that its large 2.5" LCD surface will come in contact with the glass surface. Not good. But if I were to place the camera on a product shot background surface, I'd loose the background I wanted. The Panasonic Lumix DMC-LX1 camera is a fairly small camera, which is one reason why I acquired it. Finally, I managed to think up a solution to this problem. That is to use a business card. A business card is just barely small enough to fit under the Panasonic Lumix DMC-LX1 without being seen (see photo below). So I got my wonderful product shot and the LCD stayed free of scratches.
Attached Image: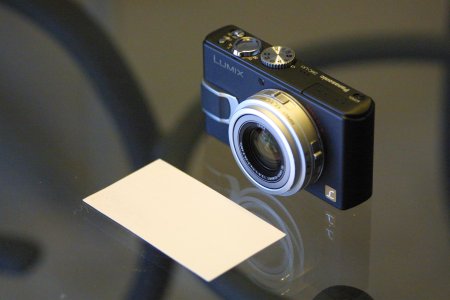 Business Card and Panasonic Lumix DMC-LX1.jpg
Chieh Cheng
Sat, 1 Apr 2006 14:37:51 -0800
Why would the LCD coming in contact with the glass table be bad?
Lumix dmc1 owner
Sat, 25 Nov 2006 00:42:55 -0800
You can mar and scratch the LCD glass or your glass table . . . or both.
Chieh Cheng
Sat, 25 Nov 2006 11:26:02 -0800
And you can't with a business card?
That's ridiculous. I'm sure you can scratch something even with the glass stable if you do something bloody stupid, but you're much more likely to ruin the LCD this way. Wood fibers (paper, cardboard, business cards) are just begging for scratches.

JS
Sat, 09 Dec 2006 06:33:40 -0800
I don't know if you can or can't. But a business card is a lot softer than glass. If I were to bet which would scratch glass easier, a business card or another piece of glass, I'd bet on another piece of glass. Which would you bet on, JS?
Chieh Cheng
Sun, 10 Dec 2006 22:55:06 -0800
dmc lx1 is a lucious camera with highly desirable looks with a hint of elagance. To all readers, get one now.
bobo
Fri, 12 Jan 2007 12:03:36 -0800

Add Comment |

Related Links |

TrackBack


Related Content
Did your message disappear? Read the Forums FAQ.
Spam Control | * indicates required field
TrackBack only accepted from WebSite-X Suite web sites. Do not submit TrackBacks from other sites.
Send Ping | TrackBack URL | Spam Control
No TrackBacks yet. TrackBack can be used to link this thread to your weblog, or link your weblog to this thread. In addition, TrackBack can be used as a form of remote commenting. Rather than posting the comment directly on this thread, you can posts it on your own weblog. Then have your weblog sends a TrackBack ping to the TrackBack URL, so that your post would show up here.
Messages, files, and images copyright by respective owners.