Attach |
Edit |
Revisions

Related Content
Casio Exilim EX-S10 Digital Camera
Review provided by Vijay.
Photo provided by Chieh.
Casio Exilim EX-S10A digital camera is the beautiful new addition to the company's pocket-sized S-line. The Exilim EX-S10A from Casio is world's smallest and thinnest 10.1 megapixel point-and-shoot camera.
The slim camera packs a 3X optical zoom lens (36-108mm focal length, 35mm equivalent), and a 1/2.3 inch CCD imaging sensor. Its 3x zoom lens adds costs but also great versatility. It also has a 4x digital zoom. The camera software automatically minimizes camera shake to deliver a clearer picture. This feature reduces blur caused by camera shake or subject movement.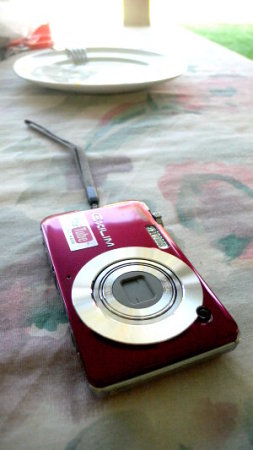 Pictures can be viewed with brilliance and clarity on its color display, which is a 2.7-inch Super Clear LCD with high 230,160 pixel resolutions.
Exilim EX-S10A digital camera has a special close-up mode that opens the door to exploring miniature worlds. It offers several creative controls so that one can get better pictures in a variety of situations. This digital camera can edit digital pictures, enhance multiple pictures, crop a picture , removes the red eye, restore a damaged picture and also can picture editing software.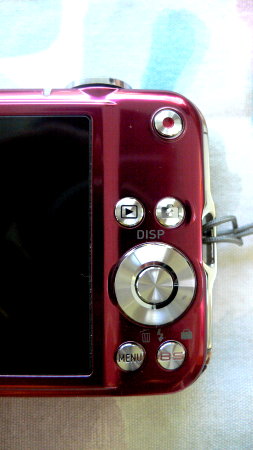 It takes great shots time after time with several scene modes including Auto, Portrait, Scenery, Portrait with Scenery, Self-Portrait (one person), Self-Portrait (two people), Children, Sports, Candlelight Portrait, Party, Pet, Flower, Natural Green, Autumn Leaves, Soft Flowing Water, Splashing Water, Sundown, Night Scene, Night Scene Portrait, Fireworks, Food, Text, Collections, For eBay, Backlight, Anti-shake, High Sensitivity, Underwater, Monochrome, Retro, Business cards & documents, Whiteboard (etc.), Silent, Prerecord Movie, For YouTube, Voice Recording, Recall User Scene, and Register User Scene.
Exilim EX-S10A provides additional features to improve picture-taking versatility. It captures all the details in low light conditions and fast action situations with high ISO from 50 to 1,600.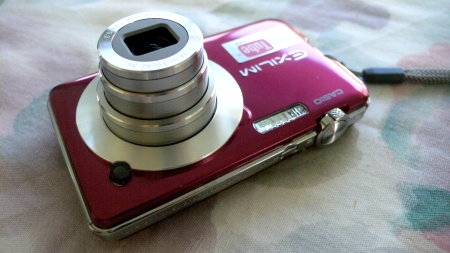 Features:
The lens in S-10 is a compact lens, it extrudes in three lens barrels, much like most P&S digital cameras.
The optical aberration is introduced due to compact lens size.
The S-10 lens is 36mm to 108mm focal length (35mm equivalent) with a 3x zoom.
Exilim EX-S10A digital camera is very light.
The buttons on the camera are comfortably located such that operation is made very easy. We can operate it with one hand.
It has a clear LCD display which displays sharp images. Even in day light we can view clearly due to its brightness and wide viewing angle.
The arrows keys are used for moving around. To activate the menu we are supposed to hit the center button and to move Left and Right, Up and Down change options settings.
Most digital cameras has a mode dial, but no mode dial on the Casio Exilim EX-S10.
The Movie mode has excellent quality. Also it supports YouTube movie mode.
The smile detection feature, blur detection and auto trigger helps people who are new to photography to get quality photographs.
The Auto Shutter is an excellent option to take snaps at different climate conditions and for indoor photography. Auto shutter mode is activated on the onscreen menu. When all the conditions are favorable automatically the snap is shot.
S-10 takes care of anti-shake and Trigger sensitivity. Normal, High Speed, Flash On or Flash Off is set by Continuous mode. Flash intensity can be adjusted.
Using a 1GB card it is possible to store around 15110-Mp shots or if it is video recording it can record up to 18 minutes.
The "Whiteboard" scene mode can be used for capturing shots of white board during lecture sessions.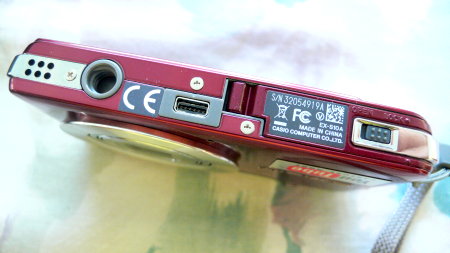 Exilim EX-S10A digital camera has "Auto Shutter" functions where the camera helps taking the best possible picture. The camera waits until there is no more camera shake or the subject has stopped moving before it takes the picture. Auto Shutter can also be used to take a sharp picture while panning. Another use is "smile detection" in portraits. Here the camera can actually recognize a smile and then shoot the picture automatically. The camera uses advanced recognition algorithms to identify and properly expose up to ten faces in a picture.
End result of the Exilim EX-S10A digital camera is a pleasing camera, with a nice heft and a stylish look. It has effective features. There are few limitations that couldn't be over-looked overcome by its fine fashionable styling.
Related Link
Attach |
Edit |
Revisions

Related Content
Attachments