Virtues of Cheap Equipment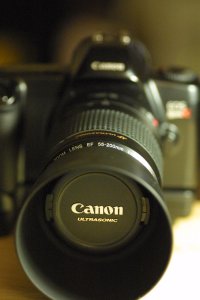 As we progress through the finer art of producing photography, we tend to pick up camera equipment along the way. Some of these camera gears we swore by and we never leave home without. Some of these gears cost hundreds or thousands of dollars. Some of these gears create tack-sharp images. Some of these gears are extremely durable. These gears are our good, expensive equipment. These gears are hard to replace financially. These expensive gears have virtues. And so does cheap equipment.
"What?!", you say, "What virtues?" Cheap equipment can rarely create tack-sharp images. They are not as durable as our more expensive gears. And we do not swear by them on important events. But they have at least one virtue: affordability. This virtue comes into play when we are in a harsh environment, when we are in territory with high theft rate, or when we don't want to carefully watch our equipment all the time.
A perfect example is when I am attending a race track event with my vehicle. While participating on the track, the vehicle must be emptied out in the cold pit; no more secure place for my camera equipment. Needless to say, it would be ridiculous for me to watch over my equipment while I am driving on the track. I feel much more comfortable with my "cheap" equipment in the pit than my ultra-tack-sharp Canon L-series lenses in the pit.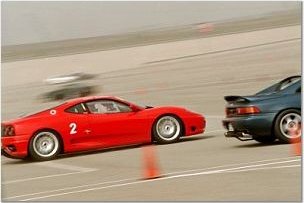 Granted, it would be harder to get ultra-tack-sharp images with the "cheap" equipment. But it is better than no pictures at all. And it is definitely better to lose a few hundred dollars worth of equipment than a few thousand dollars worth of equipment.
By the way, race track event participants are some of the nicest, friendliest, and the most honest people I have ever met. Last October, I traveled to San Francisco, eight hours away, for a photo shoot with all my equipment worth four to five thousand dollars: Sony Vaio notebook computer, whole series of high quality Canon equipment, and clothes for a week. Since the track event at Willow Springs was half way back to my home, it was silly to go home first. Instead, I left all these items in the cold pit during the event and did not loose a single item.
On the other hand, would I feel more comfortable if I left all these expensive gears at home? Yes, I would.
Let see how much more money we may lose if we brought expensive equipment compared to cheap equipment to a high-loss-risk situation. This example is based on arbitrary equivalent equipment (mostly mine) and prices are rounded.
Canon Rebel X (open box)            $70
  4 Year Best Buy Warranty          $20
  Canon Eye Cup EB (new)            $ 9
  Canon BP-8 Battery Grip
    with Hand Strap (new)           $30
Canon EF 55-200mm f/4.5-5.6 (new)   $85
                                  -----
                           Total:  $214

Canon D30 (new)                   $2050
  Canon BG-ED3 Battery Grip (new) $ 170
Sigma 70-200mm f/2.8 EX (used)    $ 650
                                  -----
                          Total:  $2870

Quite a huge difference, isn't it? $214 is still a considerable amount of money, but it is much more affordable than the price of our best equipment.
I purchased an used Canon Rebel X and a new Canon 55-200mm telephoto lens specifically for this purpose. It was an open box item at Best Buy and I had to send it in twice to finally get it in good working condition. Even bringing a cheap point-n-shoot camera to the track would be better than bringing no camera gear at all. The inexpensive gears are good investments, since I no longer worry as much about my gears out in the pit.