Preserving Your JPEG/TIFF Originals
You just came home from your best friend's wedding and got a ton of photographs in your digital camera. You can't wait to play around--adjust brightness, change saturation, resize and crop for print, etc.--with the portrait of the bride and groom you shot. You know that's an award-winning image. So you jump onto your chair, booted up your computer, popped the memory card into your computer, loaded the JPEG image into Photoshop, manipulated the image as you wish, printed it, and saved. But wait, you just saved your "perfect" settings into the original image file. Doh!
The good news is that at least your "perfect" setting is preserved. But you will never get the original image back. What if your "perfect" setting was only perfect for your current printer profile? And you will never get the data back from the portion of the image you chopped off during cropping. Sometimes you really meant to do a "Save As..." but accidentally clicked on "Save"!
I make this mistake a lot with JPEG and TIFF images. JPEG and TIFF images do not come out of your digital camera protected like RAW images. Nothing prevents you from manipulating an original JPEG or TIFF image and saving over it. The manufacturers should build this protection into its digital cameras; original JPEG images should come out of the digital camera in write-only mode. But because none of the camera manufacturers had implemented this feature, you'll have to preserve your JPEG originals on your own. And I'll show you how to do that. At the end of the article, I will tell you about a free automated tool to ease this process.
Step 1: Write-Protect Your Originals
The first step is to write-protect your original. Write-protecting an image is the same as making an image read-only; meaning your Photoshop software could read it, but cannot write to it. It's easy to do that in any of today's operating systems. I will show you how to do it in Windows.
Windows XP
Assuming the screen capture below indicate all of the files you want to write-protect, select all of them with the mouse or Ctrl-A in Windows Explorer.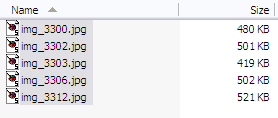 Right click on your selected files. Then click on the "Properties" in the pop-up menu. Now, check "Read-only" (see screen capture below) and push the "OK" button.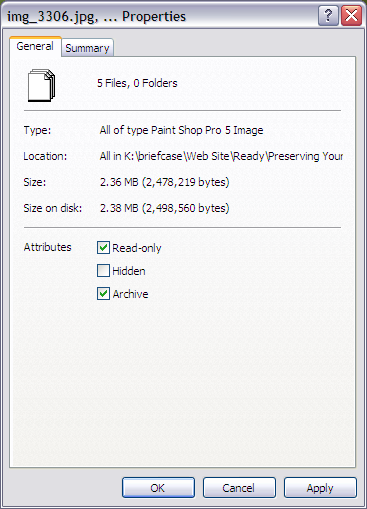 Now your files are write-protected. No one, including yourself, could write to it or delete it without your permission. Most software applications will respect the read-only flag. However, you should test the software applications you use by trying it on a protected non-original image.
Step 2: Mark the Images as Originals
Now that the file is marked as read-only, the chance of it being over-written is pretty slim. You are pretty much the only one that has the power to do it. But how do you keep yourself from overriding the permission a year or two from now, when you have forgotten that this is the original?
The answer is to rename it so that you can easily spot an original at a glance. Simply append the string " - original" in the image file name prior to the extension. For example, "img_3300.jpg" should be renamed to "img_3300 - original.jpg" as shown in the screen capture below.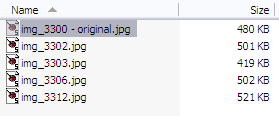 You'll have to do this to each original image. The task tedious, so some copy-and-pasting helps. But the effect is rewarding, nonetheless, especially when you have 5 different manipulated versions of the same image. To make your life easier, see the "Automated Tool" section below.
Automated Tool
I use the technique presented in this article a lot. The first few times it was ok. But after processing folders of images, it got a bit tiring. So I wrote a freeware tool to help with the process. The tool is called "MarkOriginal". This tool will rename all of the original image file you specify and insert the " - original" string. Then it will flag all of the files you specify as read-only. It's a command-line utility written in Java, so it will run on virtually any operating system. You will just need a Java Runtime Environment (JRE) to run it. If you want to use this tool, check out the MarkOriginal web page.