Cheap Alternatives to Disposable Cameras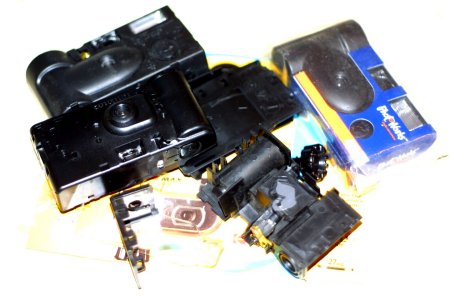 While taking apart a number of disposable cameras in my possession, in the hope of re-use, I started searching for recycling information on the web. In the process, I came across the following claim:
"Recent studies have show that, despite the recycling claims on the boxes, less than half of disposable cameras are ever actually recycled. [. . .] Inexpensive fully-automatic 35mm cameras can be purchased for about $20 if you look carefully. These cameras will give better results and cost less to use than the disposables." Click here to read the actual claim.
After reading that, I figured that is a pretty good idea. If you figure $8-$10 bucks (with tax) for a disposable camera, a $20 reusable camera is a great idea. Just shooting two rolls of film will return its worth in investment, all the while saving the environment. I decided to put together this page on all the reusable cameras out there and where to buy them for $20 or less, whether 35mm, APS, digital, video, or some other obscure format.
35mm Camera
After searching on Amazon, I found out that there are tons of 35mm cameras that are below $20. In fact, a lot of them are below $15. Instead of listing them all, I will just review a few, more interesting ones that are under $20.
This Kodak KB18 35mm Camera is available for $14.99 at Amazon/Circuit City. Features includes fixed focus with range of 4 feet and beyond, automatic flash every time you take a photo, auto-off feature to conserve battery, large viewfinder for easy framing of shots. More technical detail can be found at the link above. Wanna see this camera in action? Click here!
Did you want to get a camera for your kid? Consider one of these Kalimar cameras. Barbie 35mm Fixed Focus Camera With Flash (Pink) for $15.95 from B&H. Looney Tunes Taz 35mm Fixed Focus Camera for $9.95 from B&H.
Ever thought of shooting picture in water or around the pool? Don't pass up on the LeClic - TUFF Underwater 35mm Camera for $19.99 at Camera World. This is the only underwater camera that I could find that is even close to $20 or less. This camera is waterproof up to 70 feet. You will surely have a lot of summer fun at the beach with this camera. Technical Details: Focus Free, Auto Film Loading, Power Rewind, Auto Flash (below 17ft water depth), Flip-Up Viewfinder, Power Source: 2 AA Batteries.
There are also a number of zoom cameras that are scheduled to be released on November 1, 2002 for $20 or less. I will comes back and re-visit these in a few weeks.
APS Camera
Although I noticed that most cheap APS cameras are in the $25 range, there are still a few below the $20 mark.
This Polaroid Auto Focus APS Camera with Kit (7100FF) link claims that this camera can be purchased for $9.99 at Circuit City. If this is true, I think this camera is great buy. Its electric blue shell really catches the eyes. And the ergonomic design is very good looking. Features include automatic focus, red-eye reduction, multiple formats. The kit also include APS film, carrying pouch, and AAA (alkaline MN2400) batteries. Not a bad buy for less than 10 bucks.
This Polaroid A250 APS Camera can be had from Amazon for $19.99. It is actually made by Concord Camera. The camera is Focus Free, has 3 Picture Formats, Auto Flash, Auto Film Load, Advance & Rewind, and Red Eye Reduction. The full specification of this camera is located here.
PC Camera
These PC cameras are wired up to your computer, so you can't take them with you. But that doesn't mean you can't have a lot of fun shooting pictures around your home. For $20, it's hard to go wrong. And if you are fortunate enough to have a notebook, too, then try shooting some pictures with these at your local library or other public places.
The Labtec WebCam (USB) is $19.99 from Amazon. But other than the USB interface specified in the title, there aren't much information about it.
The Intel Play Me2Cam Virtual Game System is $14.88 from Amazon. It includes a video camera and a number of games. Not much spec is available.
This one is $1.99 over our maximum price. But what the hell . . . The Hawking Technologies 100K Pixels 30 Fps 16.7M Colors USB Webcam PC Video Camera is $21.99 from Amazon. No spec is available other than the information in the name of this product.
Digital Camera
Unfortunately I could not find any digital cameras under $20. The closest one I could find is the SiPix StyleCam Blink Digital Camera for $36.94 from Amazon. This camera has the capability of 0.3 megapixel at 640x480 resolution. The internal 8 MB memory can save up to 400 photos. This camera also include features like video conferencing and streaming video. It has a USB interface and is powered by a single AAA battery. And best of all, it's tiny!
120 Camera
If you are a real photographer or artist, you will really like the Lomographic Holga 120 S Camera for $19.99 at Amazon. There are many photographers/artists that have dedicated their lives to shooting pictures with this camera. This camera is fully manual controlled, so that you can have the freedom to be creative. It even has a full double exposure capability; a feature that no other cameras in this article has. Includes 60mm lens with adjustable focusing, shoulder strap, and manual. Uses 120 color or black and white film.
Are you willing to spend 5 bucks more? If so, get the Lomographic Holga 120 S Camera, which includes a built-in flash.
Video Camera
Nope . . . Still can't find a video camera for less than $20. 8-)
If you know where to find a video camera, or other cool cameras, for $20 or less, feel free to add a comment at the top right hand side of this page.