Add Comment |

Related Links |

TrackBack


Related Content
floppy disk to memory card adapter
I am looking for an adaptor for the Sony Mavica FD-95 that will replace the floppy disk with a memory card? Is there just a thing--and if so---thr price and where can I order one.
Hult
Fri, 16 Sep 2005 14:42:11 -0700
You are in luck, SmartDisk and Sony had teamed up to create the Sony Memory Stick/Floppy Disk Adapter MSAC-FD2M. This adapter was specifically created for the Mavica FD-95 and newer Mavica digital cameras. It allows you to use your Memory Stick in your FD-95 through this adapter.
You can get the MSAC-FD2M adapter from Sony's Direct Accessories & Parts Center (DAPC), where the Sony Memory Stick/Floppy Disk Adapter MSAC-FD2M is shown to be "In Stock"!
There are other FlashPath products available for adapting other types of memory card to floppy disk. However, I don't know if they will work inside a Mavica.
Attached Image: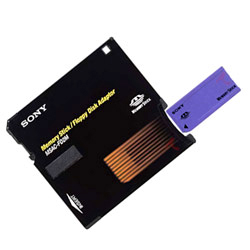 MSAC-FD2M.jpg
Chieh Cheng
Sat, 17 Sep 2005 12:47:41 -0700
I have Mavica FD91
Will this MSAC-FD2MA Floppy Disk Adaptor is compatible for this model also.
I will be glad to know if this really solves my floppy problems.
thanks
deva
devarajan
Wed, 14 Jun 2006 00:44:41 -0700
I am hunting for floppy disk adaptors
pl help me
kamlesh
Sat, 07 Oct 2006 09:48:32 -0700
where can i get the softwear of this plz tell me
ruba
Wed, 18 Oct 2006 03:07:27 -0700
I am having trouble uploading the images from the floppy adaptor to my computer. Do I need special softwear or might it be that the floppy adaptor is damaged. Computer tells me that it cannot read the floppy.
Thanks.
Andre
Sat, 28 Oct 2006 11:49:29 -0700
Is it compatible with the FD85
aboyd
Mon, 12 Nov 2007 15:14:00 +0000
I have FD81 & FD91 and this adapter.
It doesn't seem to work in either camera. I get only "disk error".
If anyone wants to give mine a try in their FD95 and up, the 1st $40 takes it, shipping included.
Steven
[email protected]
Steven
Fri, 25 Jan 2008 04:37:53 +0000
The Adapter does not work in a computer. You put it in the camera. Then to get the pics to your computer remove the card from it and insert it into a card reader.
I would not recommend getting one of these. It requires two batteries to run, and the batteries discharge constantly, even when the camera is turned off. Want to take a pic, put in the batteries, take your pics, take out the batteries. Otherwise the two coin batteries are discharged in about a day or so. Also the one I bought stopped working after a month.
glen
Mon, 24 Mar 2008 09:45:29 +0000
I have had mine for over 5 years and it is still working great. Just take it out of the camera when you are not using it. It seems to help with battery life. I am using it in a FD90.
Brent
Fri, 15 Aug 2008 19:17:44 +0000
Bom Dia1 gostaria de saber como posso adquirir este adaptador aqui em Rio Claro S/P pois tenho uma maquina da sony mavica e gostaria de adquirir este adaptador sem mais meu muito obrigado
Celso Borges
Tue, 18 Nov 2008 13:49:28 +0000
Does anyone know whether this Sony Memory Stick/Floppy Disk Adapter MSAC-FD2M, which was specifically created for the Mavica FD-95 and newer Mavica digital cameras would work fine on a Mavica FD-7, which uses a 3,5" floppy exactly as the newer Mavicas do ?
I don't see why not.
Has anyone ever tried?
Thank you.
Guru
Sat, 13 Dec 2008 19:17:34 +0000
Does it work on Yamaha PRS2100 ?
Please tell me.
Bui Minh Tuan
Tue, 24 Feb 2009 05:59:04 +0000
I just got an mavica fd90 found it in a camera bag at a thirft store for 6.00 brought it home works well dont know anything about them learned about the floppy disk adapter and memory stick so i have found several places to get the adapter. There is an easy way to download pics to your computer that I will get its a card reader with a usb port on one end u just put the memory stick in the card reader plug the usb in the usb port on the computer and thats it no cords no batteries I got one for my xd picture card for 12.00
Milton
Tue, 03 Mar 2009 03:46:39 +0000
Will the Sony Memory Stick/Floppy Disk Adapter MSAC-FD2M work with a Mavica FD88 ?
Mark
Wed, 05 Apr 2017 13:09:45 -0700

Add Comment |

Related Links |

TrackBack


Related Content
Did your message disappear? Read the Forums FAQ.
Spam Control | * indicates required field
TrackBack only accepted from WebSite-X Suite web sites. Do not submit TrackBacks from other sites.
Send Ping | TrackBack URL | Spam Control
No TrackBacks yet. TrackBack can be used to link this thread to your weblog, or link your weblog to this thread. In addition, TrackBack can be used as a form of remote commenting. Rather than posting the comment directly on this thread, you can posts it on your own weblog. Then have your weblog sends a TrackBack ping to the TrackBack URL, so that your post would show up here.
Messages, files, and images copyright by respective owners.