Add Comment |
Related Links |
TrackBack

Related Content
LCD Soft Light
I am on the road a lot. There are three things that are always with me: a cell phone, a camera, and a notebook computer. While on the road, I use the notebook computer to process my photos, keep in touch with folks, and update this web site.
One day I found a new photography use for my notebook computer on the road. I was sitting at my parent's house, playing and observing the difference between a SD Card and a MMC Mobile Card. The contact pins on the bottom are different, yet compatible. So I wanted if shoot a comparison photo of the contacts.
No matter how I positioned the lamps, the polished contact pins would create glare and uneven lighting. What I needed was a big soft light, which I have at home but not at my parent's house.
At the time, I was looking at the "LCD Lightbox" thread in our user forum. I thought maybe the same technique could be used. So I loaded up Notepad on Microsoft Windows XP and maximized it to full-screen. I then turn off the lights in the room and placed a white envelop under the memory cards. Tilting the LCD over the cards, I created the environment shown below.
The LCD isn't terribly bright. But it is big enough to create even lighting on the memory card pins.
Attached Image: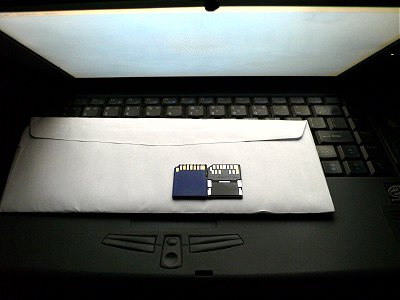 LCD Soft Light.jpg
Chieh Cheng
Mon, 27 Nov 2006 02:37:54 -0800
Add Comment |
Related Links |
TrackBack

Related Content
Did your message disappear? Read the Forums FAQ.
TrackBack only accepted from WebSite-X Suite web sites. Do not submit TrackBacks from other sites.
Send Ping | TrackBack URL | Spam Control
Title: LCD Lightbox
Weblog: Camera Hacker
Excerpt: It's been a long time since I touched film. Ever since I started using digital photographic equipment, I deal with film only when I need to digitize one of my slides or negatives. But recently, I moved. While sorting out my boxes, a negative fell out of the pile of stuff I was sorting. I wanted to m . . .
Tracked: Mon, 27 Nov 2006 02:38:48 -0800
Spam Control | * indicates required field
Messages, files, and images copyright by respective owners.