Add Comment |
Related Links |
TrackBack

Related Content
Off-camera cord for Sony's Active Interface Shoe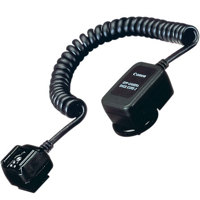 I wish Sony would make an off-camera cord for the Active Interface Shoe (AIS) that comes on its latest line of camcorders. AIS is a proprietary 16-pin interface that controls microphones, lights, and potentially other accessories. I have been using the Sony ECM-HGZ1 Gun Zoom Microphone recently and an off-camera cord would help me place the microphone remotely. Or if I want to shoot the frame in diagonal fashion, I would still be able to point the microphone to the left or right of the camcorder.
Canon has provided the Off Camera Shoe Cord 2 for years; the Canon EOS cameras also utilize a proprietary hot shoe for advanced operations. This extension cord allows you to place Canon EOS flashes remotely from the Canon EOS camera and still allows the camera to utilize TTL and E-TTL.
I wish Sony would do the same. Currently, I do not see an off-camera extension cord in the accessories list for Sony Handycams.
Chieh Cheng
Wed, 20 Jul 2005 16:05:46 -0700
Absolutely. I plan on using my DCR-DVD403 with a remote, helmet-mounted camera and would like to mount the surround-sound microphone somewhere where it can be usefull for picking up the sounds I want. That would allow me to keep the camera in a safe place and use the RMVD1 remote control to operate the camera while it's safe from dust and rain. Guess I need to verify that the remote will work with it too. Sony, please make and extension cable. Six feet would do nicely. Thank You.
Richard King
Fri, 10 Feb 2006 08:03:23 -0800
I agree, have asked sony but they just replied that my camera is not professional only higher consumer end.

brendon
Sun, 13 May 2007 22:34:30 -0700
Add Comment |
Related Links |
TrackBack

Related Content
Did your message disappear? Read the Forums FAQ.
Spam Control | * indicates required field
TrackBack only accepted from WebSite-X Suite web sites. Do not submit TrackBacks from other sites.
Send Ping | TrackBack URL | Spam Control
No TrackBacks yet. TrackBack can be used to link this thread to your weblog, or link your weblog to this thread. In addition, TrackBack can be used as a form of remote commenting. Rather than posting the comment directly on this thread, you can posts it on your own weblog. Then have your weblog sends a TrackBack ping to the TrackBack URL, so that your post would show up here.
Messages, files, and images copyright by respective owners.