Add Comment |
Related Links |
TrackBack

Related Content
Hacking Lenmar Mach 1 Speed Charger
There are various ways to hack the Lenmar Mach 1 Speed charger (click on "Back to Article" to read my article) so that it can charge any 7.2 to 7.4 volt lithium ion rechargeable batteries. Now I'm wondering if I can get it to charge lithium ion batteries rated at different volts . . .
Recently, I have acquired a Sony DSC-T11 Cyber-shot digital camera. This digital camera uses the Sony infoLithium NP-FT1 battery pack, which is rated at 3.6 volts. Basic electronics says that wiring up two of these 3.6 volt batteries in series makes a 7.2 volt battery, which could theoritically be charged with the Lenmar Mach 1 Speed Charger.
But having done the "Rebuilding the Sony VAIO PCGA-BP51 Li-Ion notebook battery pack" before, I know that most lithium ion rechargeable battery packs has charging and monitoring circuits built-in. My question is what happens when you connect two of these battery packs in series for charging?
Two, does the Sony infoLithium NP-FT1 battery pack have built-in charging circuits? Or does it only contain battery cells?
I would like to hear your comments.
Chieh Cheng
Tue, 14 Jun 2005 16:30:11 -0700
Today, the curiosity finally got the better of me. I had to find out whether the Sony infoLithium NP-FT1 battery pack have a built-in charging circuit or not . . . The battery pack is so small, I had a hard time imagine Sony engineers designing a circuitry for it. Though I had never seen a Lithium Ion battery pack without charging circuits.
After carefully peeling off the labels on the battery pack and prying off the end cap, I finally have the answer. The Sony infoLithium NP-FT1 does have built-in charging circuits (see picture below). There are tiny surface mount components on the same circuit board as the battery interface contact. I had to use a macro lens to shoot the picture.
Attached Image: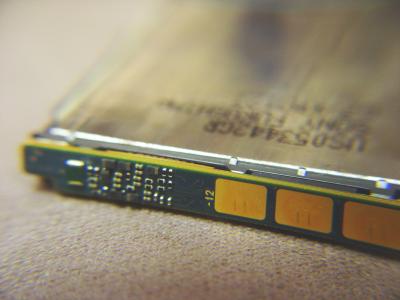 Tiny Circuit Board - Brightness 75 Contrast 75.jpg
Chieh Cheng
Thu, 16 Jun 2005 19:42:58 -0700
In the past two days, I have read the "Splashpower wants to cut the charger cord" and the "The Case of the Exploding Nikon" articles. After reading both articles, I believe the tiny charging board in the Sony infoLithium NP-FT1 battery pack is a voltage regulator. Or at least the voltage regulator component is a part of this charging board. If you have more insight to what's on this circuit board, please speak up.
Chieh Cheng
Tue, 11 Oct 2005 17:19:37 -0700
this board is a combination safety circuit and charge controller. there is a part on this board that measures both power in and power out over time. this happens even if the laptop is off, but plugged into AC.
there will be GND, BAT_OUT, Charge IN, and 2 or 3 comm PADS.
all you have to do to charge the battery is to put power on GND and charge pin.
vance
Wed, 8 Mar 2006 02:03:04 -0800
Thanks Vance, but how much voltage and current should I apply to the pins?
Chieh Cheng
Wed, 8 Mar 2006 10:37:43 -0800
Your article on hacking the Lenmar Mach 1 is brilliant. I have so many batteries that need charging that wont fit in the adapter plate, most recently the Canon BP208. I will try the alligator clip method you suggested.
Thanks,
Nano
Charlie Nanos
Mon, 12 Feb 2007 13:04:31 -0800
Add Comment |
Related Links |
TrackBack

Related Content
Did your message disappear? Read the Forums FAQ.
Spam Control | * indicates required field
TrackBack only accepted from WebSite-X Suite web sites. Do not submit TrackBacks from other sites.
Send Ping | TrackBack URL | Spam Control
No TrackBacks yet. TrackBack can be used to link this thread to your weblog, or link your weblog to this thread. In addition, TrackBack can be used as a form of remote commenting. Rather than posting the comment directly on this thread, you can posts it on your own weblog. Then have your weblog sends a TrackBack ping to the TrackBack URL, so that your post would show up here.
Messages, files, and images copyright by respective owners.