Add Comment |

Related Links |

TrackBack


Related Content
Dirty Video Head C:22:00
I didn't think I'd get an error message on my Sony Handycam. I have never gotten one before. But just this week, my Sony DCR-HC90 starts acting up. And this is my newest Sony Handycams; I have three all together. The error code I is C:22:00. And amazingly, the camcorder actually tells me what the error code is about (shown in the photo above); normally, you'd have to look up the error code. It says, "Dirty video head. Use a cleaning cassette." Looks like I have to buy a MiniDV cleaning cassette.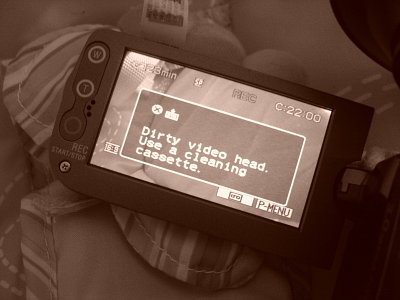 It surprises me that the camcorder has a dirty head so quickly this time around. My previous Sony Video8 camcorder and Sony Digital8 camcorder hasn't had a dirty head yet. Anyone have any idea how the head got so dirty so quickly? What is your experience?
Chieh Cheng
Thu, 24 Jan 2008 03:33:32 +0000
My HDV fx1e is giving an error (error code c:22:00)
It give the error for head cleaning(Msg is "Dirty Head")
What does it means. Can u help me.
Surendra Singh
Thu, 31 Jan 2008 13:56:51 +0000

Add Comment |

Related Links |

TrackBack


Related Content
Did your message disappear? Read the Forums FAQ.
Spam Control | * indicates required field
TrackBack only accepted from WebSite-X Suite web sites. Do not submit TrackBacks from other sites.
Send Ping | TrackBack URL | Spam Control
No TrackBacks yet. TrackBack can be used to link this thread to your weblog, or link your weblog to this thread. In addition, TrackBack can be used as a form of remote commenting. Rather than posting the comment directly on this thread, you can posts it on your own weblog. Then have your weblog sends a TrackBack ping to the TrackBack URL, so that your post would show up here.
Messages, files, and images copyright by respective owners.