Putting a filter thread on the Olympus 1.45x Teleconverter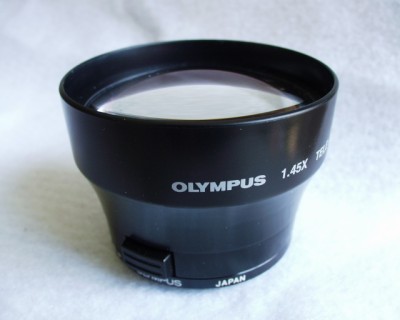 This weekend, April 8th, 2001, I needed to take some special effect pictures with my assorted filters, using my Olympus C-2500L digital camera. The camera has a focal length range of 9.2 to 28mm, equivalent to a 36 to 110mm on a 35mm camera. In order to take the picture I wanted to take, I needed the Olympus 1.45x teleconverter to get the view that I wanted. Unfortunately, the Olympus 1.45x teleconverter has no filter thread.
Being a camera hacker, I wasn't going to let that stop me from getting the picture I wanted. I pulled out my filter step-up rings and tried to see if I could find one that fit snugly, maybe one that can screw thread in the plastic of the lens. After trying a few rings, I found the size of the teleconverter front to be 59mm. Filter rings do not come in that size, at least, none from B&H (read my "Where to buy cameras?" article if you don't know what B&H is).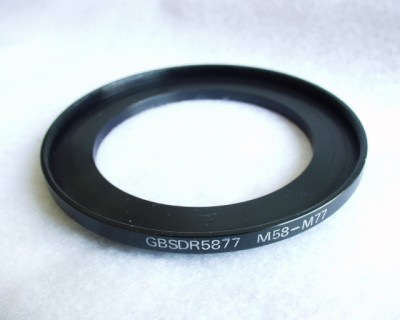 Well . . . my first idea is a bust, so I figured I might as well super-glue a filter adapter ring to the front of the lens. It is permanent, but without a thread on the front, I wasn't going to do much with the lens anyway. I decided to mount a 58-77mm step-up ring on the teleconverter. I had several reasons why I wanted to mount such a large adapter ring:
Most of my filters are 77mm, because most of my Canon EOS lenses have 77mm filter threads. All my future filters are going to be 77mm or larger.
I do not want to vignette my pictures. The bigger the filter, compared to the lens, the more filters I can stack without vignette.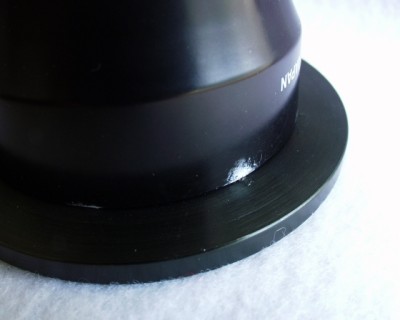 Mounting the adapter ring was pretty easy. I lined the edge of the lens front with super-glue, the gel type so that it would not run. Then I pressed the 58-77mm adapter ring onto the front of the lens.
The only problem I have is that the super-glue leaves a write residue. I will probably just color it with a black permanent marker. But if you know a good super-glue substitute that does not leave a residue, please let me know.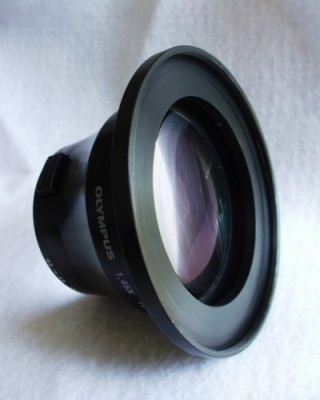 The lens cap that came with the Olympus 1.45x lens no longer fits over the lens. But I have a spare generic 77mm lens cap sitting around, so this seems the perfect application for it. With the filter thread, the 1.45x teleconverter is far more useful and practical.
Other useful links
Discussion
Latest Discussion
All Discussions