Revision: 20120930_110122 | All Revisions
---
Canon Battery Pack LP-E8 Pinout
The Canon Battery Pack LP-E8 is a Li-ion 7.2v battery with a capacity of 1120 mAh (8.1Wh). Photo below shows the Canon Battery Pack LP-E8 and it's specifications.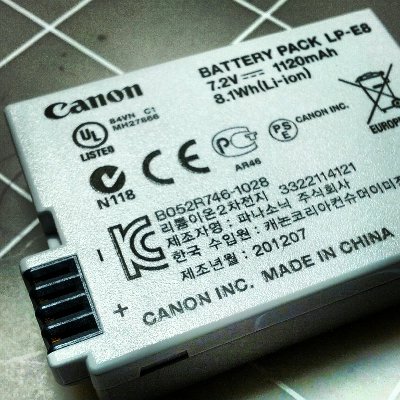 The battery pack has four electrical female pins. If you look at the bottom of the battery with the pins toward the top, you'll see that the left-most pin is the positive (+) pin and the right-most pin is the negative (-) pin. The two electrical contacts in the middle is not labeled.
Compatibility
The Canon Battery Pack LP-E8 is compatible with the following digital SLR cameras:
Canon EOS Rebel T2i
Canon EOS Rebel T3i
Canon EOS Rebel T4i
Canon EOS 550D
Canon EOS 600D
Canon EOS 650D
Canon EOS Kiss X4
Canon EOS Kiss X5
Canon EoS Kiss X6i
Related Links
95 Users Online









Gifts By Price
$10000-above
$5000-$9999
$2000-$4999
$1000-$1999
$500-$999
$200-$499
$100-$199
$50-$99
$25-$49
$0-$24
Gift Certificate






Copyright © 1998 - 2022. All Rights Reserved.