Attach |

Edit |

Revisions


Related Content
Cleaning Point-and-Shoot Lens
Unlike Single-Lens-Reflex (SLR) camera lenses with large frontal lens elements, point-and-shoot (P&S) cameras generally has small frontal lenses. Most P&S frontal lens elements are so small that you can't even get your finger through the lens opening. Nevertheless, the lens opening doesn't prevent your fingertips to smudge the lens as shown in the photo below.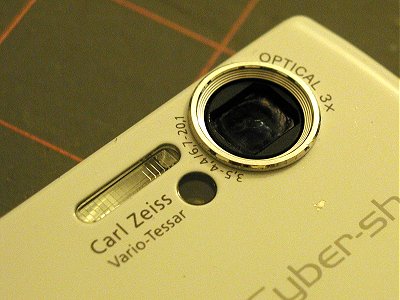 To clean such a smudge off can be an extremely tiring exercise. Since you can't get your whole finger through the lens opening, you can't really put the lens cleaning cloth to work. And the tips on the specialized lens cleaning pen is generally bigger than your fingertip, so it's no use either. But have no fear, in this article, I will give you some pointers to cleaning small lenses and provide some tips to guard against camera-destroying pitfalls.
The Basic Tip
The basic tip applies to all camera lenses and is very simple. It basically says to clean your camera lens, you should use no solution other than your breath vapor. Use your mouth to generate some hot air, which condenses on the surface of your lens as water vapor. Then quickly wipe the water vapor away with your cleaning aid, such as the lens cloth. Repeat this a few times until the lens element is clean.
You should never use any other liquid solution--like water or rubbing alcohol--other than your breath vapor. The reason is because most lens aren't sealed. Therefore, liquid will seep into the lens assembly from the edge of the front lens element. I've learned this the hard way by trying to clean my Sony Cyber-shot DSC-T11 using a generous dab of rubbing alcohol. The rubbing alcohol seeped in and coated the lens element from the inside, destroying the usability of the digital camera. So general rule-of-thumb is to never use anything other than the breath water vapor on the lens element.
Cleaning Medium-Sized Lens
Most point-and-shoot cameras today comes with, what I call, a medium-size lens. The size of this frontal lens is big enough for your fingertip to smudge, but difficult for your fingers to clean. The lens cleaning pen isn't useful on these lenses either.
The good news is that a Q-Tip will usually work well on these medium-size lens openings. Use your breath vapor on the lens element and quickly wipe it away with a fresh Q-Tip (see photo below).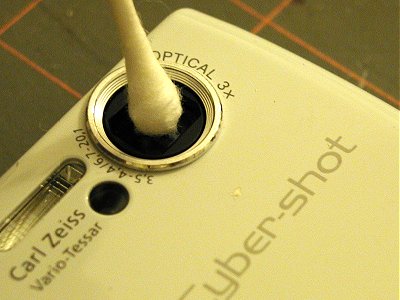 Cleaning Camera Phone Lens
Camera phones, and many low-end fix-focus cameras, come with an extremely small lens elements. Most of them you can't even touch with your fingertips. Therefore you usually never smudge one of these lenses. The problem is these lens openings attract lint and dust like crazy, because the camera phones sit in your pocket all the time. So, although you can't smudge the camera phone lens, it actually requires cleaning more often than with digital cameras.
I discovered the trick to cleaning camera phone lenses many years ago when I learned to clean battery contacts with small openings (see my "Battery Connection Cleaning" article" in "Related Links" below). The trick is to use a thumb pin or thumb tack with a generous amount of toilet paper on the pin point (see photo below). You'll want to use more toilet paper than the amount I documented for the "Battery Connection Cleaning" article; you wouldn't want to scratch the lens, right? Once you've prepared the thumb pin with toilet paper, breath water vapor onto the lens and wipe it away with the toilet paper covered pinpoint.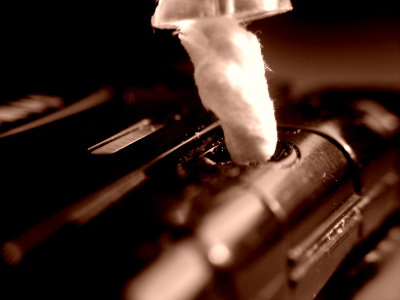 Related Links

Attach |

Edit |

Revisions


Related Content
Attachments