Attach |

Edit |

Revisions


Related Content
Fixing the Sony MSAC-M2 Memory Stick Duo Adaptor
Clarification
In case you are wondering why "adapter" is spelled as "adaptor" in the title, that is the way Sony named the MSAC-M2 as shown in the photo below.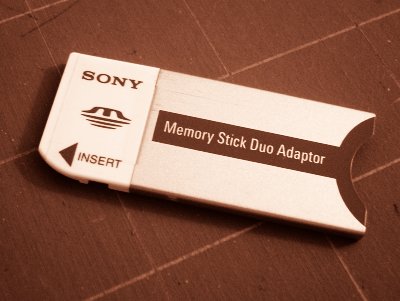 My wife has got a tendency to break my electronic gadgets. I don't know how she does it, but she manages to find a way.
I've had four or five of these Sony MSAC-M2 Memory Stick Duo Adaptors and they have always worked fine. Two days after I gave my wife one of these adapters for her use, she brought it back to me. "It don't work", she said. Sure enough, a Memory Stick Duo won't slide all the way in.
Intrigued, I put her broken adapter in my fix bin and handed her another one. I wanted to see how she broke this simple device. After all, you just insert a Memory Stick Duo and away you go.
The aluminum cover on the Sony MSAC-M2 Memory Stick Duo adaptor is held on by two plastic locking tabs. One of them is shown in the photo below. Use an X-acto knife to slice away both locking tabs and the cover will slide right off.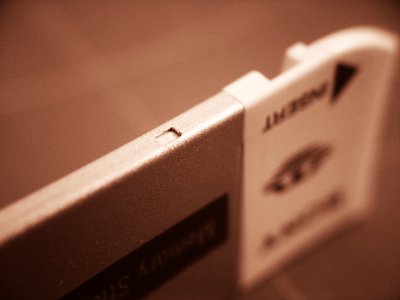 The photo below shows the inside of the Sony MSAC-M2 Memory Stick Duo Adaptor.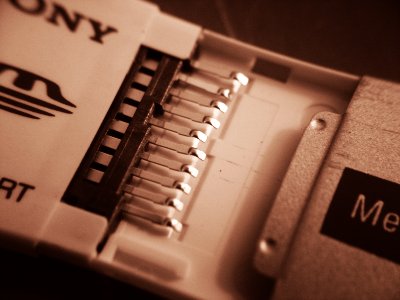 Cross-Reference
The Sony MSAC-M2 Memory Stick Duo Adaptor is simply a pass-through adapter; the regular Memory Stick and the Duo are pin-to-pin compatible. See "Accessing Memory Stick Duo Directly in a Memory Stick Reader" article elsewhere on this site.
After taking apart the adapter, I realized why the Duo can't be fully inserted into the adapter. A piece of debris has gotten in. The Duo simply pushed the debris under the second pin closes to the camera in the photo below. The debris bent the pin, away from the Duo contact.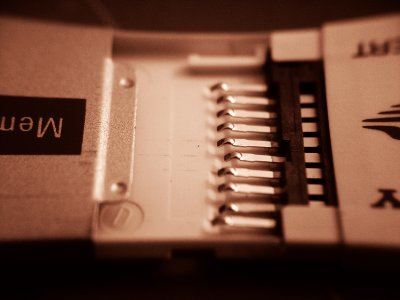 After removing the debris and bending the pin back to normal height as shown in the photo below, the adapter started working again.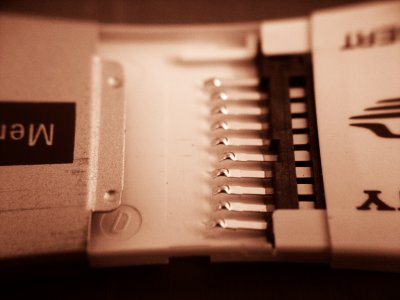 I still have no idea how my wife gotten a debris into the Sony MSAC-M2 Memory Stick Duo Adaptor. Nevertheless, the fix isn't very hard. And it gave me a chance to see what is inside it; something I loved doing even as a child.

Attach |

Edit |

Revisions


Related Content
Attachments