Attach |

Edit |

Revisions


Related Content
HTC Touch (Verizon XV6900) PDA Camera Phone
This is the Camera Hacker web site. So rather than reviewing the PDA/phone functionalities, I am going to review the digital camera portion of this PDA camera phone and anything else that supports the digital camera function. The review will follow the same gripe and rave format that you will find on the rest of this site. And no doubt, there will be comparisons to other camera gadgets that I've used in the past.
Unlike its predecessor, the HTC XV6700, the HTC Touch Camera Phone has a well rounded style. It's is also far thinner, about half-an-inch thick compared to the almost one-inch thick HTC XV6700. It's now possible to carry the new HTC Touch in your pocket without actually feeling that it's there. Gone also is the antenna that pokes out of the HTC XV6700. The HTC Touch is sleek with no awkward protrusions. Its physical shape is far smaller and sleeker than digital cameras on the market. It's PDA screen serves as the electronic viewfinder and the photo review display. The LCD has a resolution of 240x320.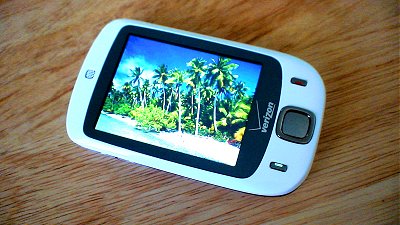 Photo capturing lens is on the backside of PDA. The tiny lens reminds me of lenses on web cams and disposable digital cameras. The lens is fixed focus. So there is no way to adjust focus manually or automatically. Even the macro focus switch on the older HTC XV6700 is gone. But I've found that the new HTC Touch can focus quite closely even without the switch. The instruction manual is written for typical consumer, not for photographers, so there are no camera specifications like minimum focus distance, aperture, shutter speed, etc.
There are two ways to enter the camera from the PDA, either click the the shutter button pull down the Start menu and select Camera. Clicking the shutter button is the most convenient way and I am glad to see that HTC has gone with a simple click, rather than holding down the shutter button for 2 seconds. The simply click actually gets you into camera mode for quick, spur of the moment photographs. You can turn the HTC Touch off in camera mode, and the phone will stay in camera mode when you turn it back on.
HTC has eliminated the annoying and useless video light on its new HTC Touch. Instead, it replaces it with a small self-portrait mirror. This mirror lets you see you and your companions' pose while shooting self-portraits. It's really a nice feature, since I often see people shoot self-portraits with their camera phones.
Photo
The HTC Touch is capable of capturing a 2 megapixel (1280x1024) image. That is low for today's digital camera standard, and is starting to become low for today's camera phone standard.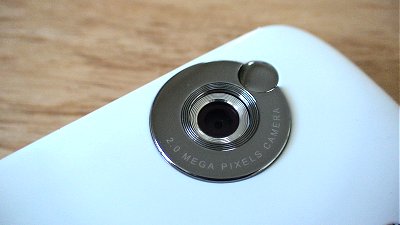 The new HTC Touch is more digital camera like than its predecessor; it has more independent camera settings. For example, it has a separate white balance settings from its special effect modes. The camera setting is offered on two GUI's. One GUI is the Quick Settings Panel and the other is the Camera Setting Menu. As the name imply, the Quick Setting Panel has the most often adjusted settings, such as resolution, white balance, brightness (exposure compensation), storage, and self-timer. The Quick Setting Panel can be quickly brought onto the screen with one tap. The Camera Setting Menu has more advanced settings that are used less often, such as effect, time stamp, quality, metering mode, storage, capture format, shutter sound, grid, keep backlight, review duration, flicker adjustment, prefix, counter, image properties, help, and About.
Sadly, the white balance mode requires you to toggle through each mode, rather than allowing you to select one from a list. The white balance mode it supports are auto, sunlight, night-time, indoor, and fluorescent. The exposure compensation, on the other hand, is a joy to use. Just tap + and - to move up and down the brightness. The camera offers compensation in half-stop increments up to two stops on either side.
Special effects that the HTC Touch offers are grayscale, sepia, cool, and negative. It also offers the ability to time stamp your image. And you can set your image quality to basic, normal, fine, and super fine. For most aspiring photographers, you'll want to keep it at 2MP super fine. The metering mode lets you switch between center area and average. I am quite impressed with the metering mode functionality, because it generally comes on higher-end digital cameras; so it's a real treat to have it on the HTC Touch.
The image properties allows you to adjust contrast, saturation, hue, and sharpness independently from one another. You can change each setting between +1 and +5. All setting defaults to +3.
The HTC Touch offers a capture format setting. But so far I haven't been able to switch to another format other than JPEG. At this time, I can't tell whether it supports any other format. This is really disappointing, because its predecessor actually supports BMP, a lossless, format as well.
Video
The XV6700 has a video mode and supports three capture formats: H.263, 3GPP2, MPEG4, and Motion JPEG. It supports only two resolutions: Small and Medium. The video mode also supports digital zoom capability. However, unlike the photo mode, it only supports two steps: 1x and 2x.
The Quick Setting Panel in video mode has resolution, white balance, brightness (exposure compensation), and storage. The Camera Setting Menu has more advanced settings that are used less often, such as effect, metering mode, storage, capture format, shutter sound, keep backlight, review duration, flicker adjustment, record with audio, prefix, counter, recording limit, image properties, help, and About.
The HTC Touch doesn't place a time limitation on the length of video you can record. It does however give you the ability to enable limitation based on time or file size. It supports 250 KB, 1 MB, 2 MB, 10 seconds, 30 seconds, 1 minute, 3 minutes, and no limit. This is a wonderful trait that I think digital camera manufacturers should learn from when producing digital cameras.
Memory Storage
The HTC Touch comes with 128 MB of built-in memory that is shared between storing photographs/videos taken with the camera and data files from its PDA. Thus, you don't actually need any memory cards to make visual/audio records. However, the HTC Touch camera phone also supports a memory card slot. The Verizon XV6700 has a memory card slot for microSD memory card. The memory card slot is under a trim on the side of the camera phone. Despite all the reviews out there that claims you can't open the card slot panel unless you take off the back cover, I find that you can easily pull out the trim cover if you have a little bit of a fingernail.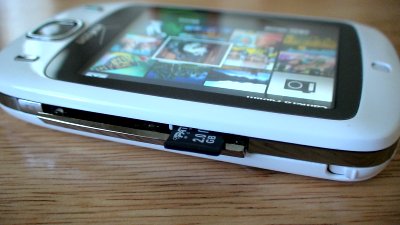 The HTC Touch camera phone runs the Windows Mobile 6 operating system. Therefore, it uses the Windows "My Documents" files structure for storing data. The HTC Touch camera phone tends to put the photographs in "My Documents\My Pictures", even though "My Documents\My Photos" also exist. I always forget where the photographs resides and have to look in both directories. On the other hand, there is only a "My Documents\My Videos" directory, so it's a little easier to find the videos that I shot. But if you use a memory card to store photos and videos, then the HTC Touch camera phone follows the DCIM standard used by most digital cameras. It stores both photos and videos into "\Storage Card\DCIM\100MEDIA".
HTC Touch has the ability to save image/video files with custom prefix in its file names. You have the choice to use the date or both the date and time. It makes sorting files based on name extremely easy and automatic. However, this only works if you are storing the data to the camera phone's internal memory. You lose this ability if you save to the storage card. Another feature I wish for is the ability to save with a custom prefix.
Carrying Case
The HTC Touch comes with a soft, black pouch. It's really quite comfortable to carry in my pocket.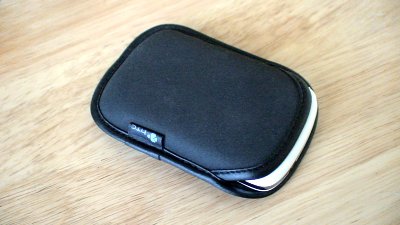 Charger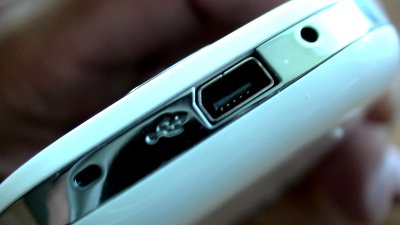 The HTC Touch has a proprietary USB, charging, and headphone port. In order to use any of these features, a special USB/headphone adapter is supplied with the camera phone. The adapter has a mini-B USB connector for you to plug in a mini-B USB cable. The HTC Touch can be charged with the supplied USB charger or the USB port of your computer. It's handy, but the proprietary adapter make the process quite less convenient than if it had a standard USB port. It also means that you have to take this adapter everywhere you go. And you better be sure that you don't lose it.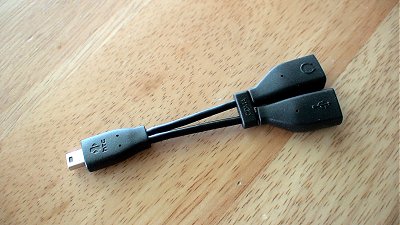 Related Links

Attach |

Edit |

Revisions


Related Content
Attachments