Attach |
Edit |
Revisions

Related Content
How to Choose a DiCAPac Underwater Case for Your Digital Camera?
DiCAPac is a Korean company that specializes in producing underwater cases for cameras. This company is relative newcomer that produces quality underwater case at a relatively low price. One noticeable difference between DiCAPac and other more established underwater case brands is that DiCAPac doesn't publish camera compatibility list for their underwater cases, causing consumers to scratching their heads. This article will show you how to find the right DiCAPac underwater case for your camera.
The first step is to visit the DiCAPac web site and browse its products. You can find a link to the DiCAPac web site in the "Related Links" section below. Once you find the type of underwater case that seems suitable for your camera, it's time to grind down to the exact model for the perfect fit.
In this article, we are going to use the Sony Cyber-shot DSC-T900 digital camera as example; we are going to find a DiCAPac underwater case for it. Looking at the DiCAPac line-up for digital cameras, the WP-710 and WP-711 are made for thin digital camera with internal zoom lens.
Once you have identified the type of underwater case that suits your digital camera, look at the product details page. On that page, you will see some camera dimensions, like the example diagram below.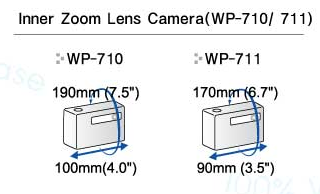 The diagram shows you the camera dimension that will fit into the particular underwater bag. You can take a ruler and measure your digital camera to see if it fits. Or if you have the user manual or the manufacturer spec sheet, you can just read the dimensions.
The Sony Cyber-shot DSC-T900 has the following dimensions: 94 (W) x 57 (H) x 16 (D) mm. The width of this camera is already bigger than the specification for WP-711. It's time to add up the height and the depth to see if it will fit the WP-710 underwater case. 57 * 2 + 16 * 2 = 146 mm. So it seems that the WP-710 is suitable for the Sony Cyber-shot DSC-T900 digital camera, while the WP-711 case is a bit too small.
On Amazon, the DiCAPac WP-710 is being sold for $27.98 with free shipping. Not bad for a lot of fun during the summer or at a tropical paradise, like Hawaii.
Related Links
Attach |
Edit |
Revisions

Related Content
Attachments