Attach |

Edit |

Revisions


Related Content
Super Inexpensive Lenses for Your Digital SLR Camera
If you been playing with your digital SLR camera for a while, you'd soon realized that good lenses can cost more than your camera. For example, if you look at the Canon L-series interchangeable lenses, you'll see most of them are over $1000. Not something all of us could afford on a daily basis.
That brings a dilemma. You have your digital SLR camera with a kit lens or two. But what's so fun about having a SLR camera if you can't change the lens out, because you can't afford them, to try different things?
Have no fear, in this article, we focus on inexpensive interchangeable lenses that you can buy for your digital SLR camera. Use these lenses to make bring out the creativity in yourself. Shoot interesting photographs that you can't produce with high-cost lenses.
Criteria
The criteria we used for this article is as follows:
You (and anyone else) can buy the lens new. No used, refurbished, etc.
The lens must be usable directly with a SLR camera (possibly with an adapter). No accessory lenses, extension tubes, etc.
The lens costs less than $100.
Do you know of an inexpensive lens that fits these criteria, but is not already on this list? Please let us know.
Holga 60mm f/8 Lens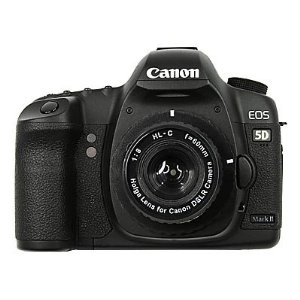 The Holga 60mm f/8 Lens allows your digital SLR camera to emulate the traditional Holga film camera. The photo it produces is far from spectacular from today's high-tech lenses, but has it's own charm and artistic qualities. A cult following of this old style camera still exist. The Holga 60mm f/8 Lens is available on Amazon for only $24.99.
Holga Pinhole HPL Lens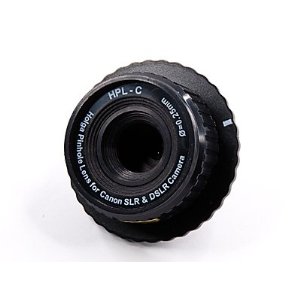 The oldest camera lens in the world is the pinhole lens. Therefore, it produces interesting images that can be seen in extremely old photographs. Just changing the pinhole size can produce infinitely different results. The Holga Pinhole HPL Lens is only $24.99. But if that's too much for you, you can "Making a Pinhole Lens for SLR Cameras" yourself.
Diana F Lenses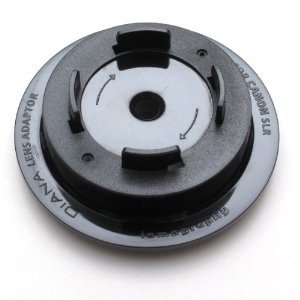 Along the same line as the Holga film cameras comes the Diana camera. Today, you can still buy a Diana camera and its assorted lenses. But why, when you can use the wide array of Diana F lenses on your SLR camera with a Diana F adapter. On Amazon, Diana F lenses costs around $30. The Diana F adapter costs $10.99.
Lensbaby Spark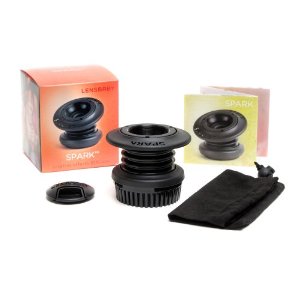 When Lensbaby first arrive to provide a sweet spot of selective focus, photographers flock to experiment. Today, Lensbaby technology is so advanced, that it has a whole series of lenses. Most of the Lensbaby lenses cost as much as a regular camera lens. Fortunately for us, Lensbaby still produces the Lensbaby Spark, which is similar to the original, down to the price of $79.95 on Amazon.
Opteka High Definition 500mm f/8 Preset Telephoto Lens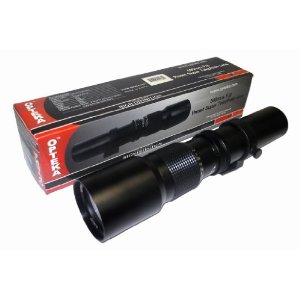 Have you always wanted a super telephoto len to take wildlife photographs? But a 300mm f/2.8 lens costs about $4000 the last time I checked. Well, you can beat the focal length of that lens with the Opteka High Definition 500mm f/8 Preset Telephoto Lens for less than $100.
Although you can't change the aperture of this lens, in bright sunlight, you won't need to. And with 500mm focal length, you can be far enough from the wildlife and get a blurred background. The Opteka High Definition 500mm f/8 Preset Telephoto Lens costs $89.95 on Amazon. But you'll also need a t-mount adapter for your SLR camera, which costs around $10.
Vivitar V-500MR 500mm Mirror Lens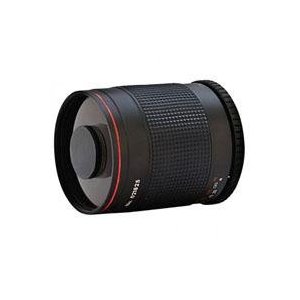 The Vivitar V-500MR 500mm Mirror Lens gives you the same focal lens as the 500mm telephoto lens, but in a much compact size. The trick is the internal mirror system that bounces light back and forth before gathering it on the digital sensor. The trade off is a slightly softer image with the internal mixing of light, but how else can you find a 500mm lens at the size of a regular lens? Isn't technology wonderful? The Vivitar V-500MR 500mm Mirror Lens is available on Amazon for $94.95. You'll need a $10 t-mount adapter to mount it to your SLR camera.
50mm Prime Lens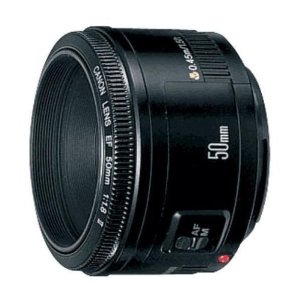 Lens engineers have designed the 50mm prime lens to death. They are so sharp and so inexpensive on the market nowadays, it's incredible how much lesser lenses cost. For example, the Canon EF 50mm f/1.8 II is only $99 on Amazon. You can even use it as a loupe. If you don't know whether prime (non-zoom) lens is right for you, then you might try this lens before jumping into the prime lens frying pan.
Related Links
We like to provide you the convenience to link to the products in this article. But there are just too many combination of cameras and lenses. Therefore, please use the following search links.

Attach |

Edit |

Revisions


Related Content
Attachments