Attach |

Edit |

Revisions


Related Content
microSD to Memory Stick Duo Adapter
For a while now, I've been collecting flash card adapters that would convert flash memory cards from one type to another. For example, I've tried the Minolta CompactFlash Adapter for SD Memory Cards SD-CF1, the Sony MSAC-MCF1N Memory Stick Duo Adaptor for CompactFlash Slot, and the microSD-to-miniSD Adapter. (You can find reviews for these converters elsewhere on this site). So I've been pretty happy collecting microSD's and Memory Stick Duo's to use with my digital cameras, PDA's, MP3 players, and computers.
Just two weeks ago, I came across a new product release flyer. This flyer announces the microSD -> MS Pro Duo Reader. It looks astonishingly interesting and is the final piece of the puzzle. With this adapter I can stop acquiring Memory Stick Duo's and simply use microSD cards for all my electronics devices. I promptly wrote to John Chen of Win Team Technology Co., LTD., who graciously agreed to send me two samples to review.
A week later, I received a yellow envelope from Taiwan. Inside is a plastic flash memory card container, much like ones for SD Cards and CompactFlash's. Except this container is specially made for Memory Stick Duo's. Inside the container are two microSD MS PRO Duo Reader.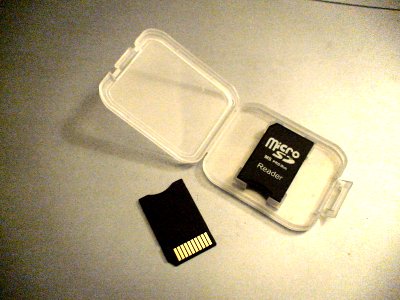 I was extremely excited to have this adapter in my hand. I found an old SanDisk TransFlash 32 MB microSD card to try first. This is an old card. It's so old that not much could fit on it nowadays. So if I break it some how, I won't be too heart broken. I stuck the 32 MB microSD card into the adapter. Then I stuck the adapter into my Sony DCR-HC90 Handycam. The digital camcorder says, "Reinsert the Memory Stick."
Tip
SanDisk created the original microSD Card. It called it TransFlash. When TransFlash was accepted as part of the SD Card standard, it was renamed to microSD Card.
I got really nervous. I pulled the adapter out, stuck it into a Sony MSAC-M2 Memory Stick Duo Adapter (the standard adapter that Sony bundle with Memory Stick Duo). Then I stuck the combination into my Sony DSC-P92 Cyber-shot digital camera. Turned it on and found it report "C:13:01 Format error".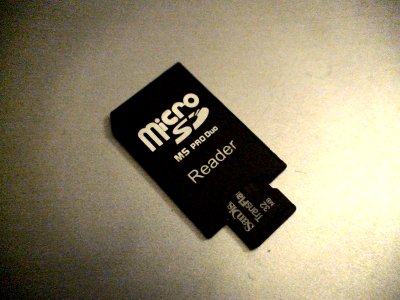 I tried both sample microSD to Memory Stick Duo Adapters and got the same error message in both devices. There was no instruction manual in the package to guide me along. Mr. John Chen has been really nice to send me two samples at his own expense. I didn't want to break the bad news to him that the samples don't work. So I decided to be a little more adventurous. I decided to format the microSD Card, inside the microSD to Memory Stick Duo Adapter, with my Sony gadgets. This is something I instructed you not to do when you use the CompactFlash adapters that I reviewed before. But I decided to attempt format with these microSD MS PRO Duo Readers.
Warning
Do not use this adapter with microSDHC cards. The higher capacity SDHC format will damage this adapter. There is now a newer version of this adapter for microSDHC cards. Take a look at the "microSDHC to Memory Stick Pro Duo Converter" review article that is elsewhere on this site.
I crossed my fingers and selected "Yes" when my camera ask if I really wanted to format the card. I didn't want my camera nor the microSD card to burn out. But lo and behold, the camera successfully formated the cards and report no error. I switched back to camera mode and found the digital camera happily thinking it's got a Memory Stick inside its body. I proceed to shoot a few photos and were able to view them. Pleasantly surprised, I was relieved that I only have good news to report. It turns out that you have to format the microSD Card inside your Sony device before it'd work.
So apparently Sony had used a proprietary format with its Memory Stick PRO Duo. The question is, will the Sony formatted microSD Card work in a standard TransFlash adapter? My guess was that it was incompatible. But I was pleasantly surprised again when I stuck the TransFlash adapter (with the Sony formatted microSD card) into my notebook computer. The computer was able to read it just fine. I don't know what the real deal is, perhaps Sony devices uses the same format but was fixed at one sector size (feel free to share if you know the answer). I am really happy that everything worked out to my convenience in the end. I don't have a problem re-formatting all my microSD Cards inside my Sony gadgets just so I can use it with all my gears.
Cross-Reference
Want to see what's inside this adapter? Take a look at the "Inside the microSD to Memory Stick Duo Adapter" thread.
It doesn't matter if the microSD Card is bigger or smaller than 128 MB (maximum size for non-PRO Memory Stick). It seems that once you've stuck a microSD Card into this microSD MS PRO Duo Reader, you've converted it to a Memory Stick PRO Duo. I don't have any non-PRO compatible devices, so I haven't tested whether this adapter work with older, obsolete, non-PRO Sony gadgets.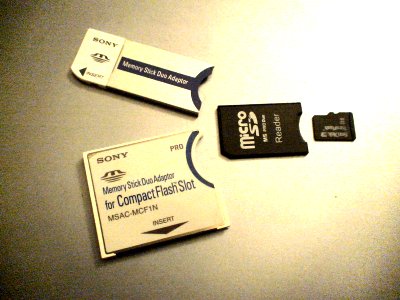 I've even tried this microSD MS PRO Duo Reader with the Sony Memory Stick Duo Adapter for CompactFlash Slot MSAC-MCF1N. It works wonderfully with my iPAQ 3955 PDA and other CompactFlash electronic devices. I've since then tested the microSD to Memory Stick Duo Adapter out with 1 GB microSD Card and it works just fine. I am extremely happy that this wonderful adapter exist on the market. Now I can concentrate on acquiring one type of flash memory card (microSD) for all my needs.
Related Links

Attach |

Edit |

Revisions


Related Content
Attachments