Add Comment |

Related Links |

TrackBack


Related Content
Sony DCR-HC36 drivers
Please
Does anybody know where I could download the drivers and application package that comes standard with a DCR-HC36
Thanks
Francois
Wed, 23 Aug 2006 13:23:49 -0700
need driver handycam dcr-hc36
pancho
Sat, 23 Sep 2006 05:56:50 -0700
Sony eSupport - Electronics: Drivers & Software: Support - Product Selection
xavier
Mon, 25 Sep 2006 21:26:18 -0700
Damn... There are no drivers for it online. not even on the sony website. So much for customer care....im looking for it myself and i just cant find it.
akhilesh
Sat, 14 Oct 2006 14:03:15 -0700
i need sony handycam dcrhc36 driver for windows xp.
please do the needful as soon as possible
balaji
Tue, 24 Oct 2006 23:21:01 -0700
That is an absurdity! How cannot have drivers for that model?
José Maria Filho
Mon, 06 Nov 2006 16:27:36 -0800
http://www.css.ap.sony.com/consumer/template/DDDownload.aspx
here it is
Sat, 16 Dec 2006 00:34:23 -0800
I need software for DCR - HC 36 online
altaf
Wed, 27 Dec 2006 06:06:58 -0800
where is the software disc for this products?
sony forget to put with product.
john
Sun, 14 Jan 2007 22:05:26 -0800
I bought the sony Handycam ( DCR-HC36)I needed to use it today and the drivers are corrupt. I went to get my cd to reinstall and It is packed away because I'm moving. I called sony and they said I could buy the CD again for $30. What a bunch of CRAP. Have you ever heard of anyone charging for drivers after you have already paid $400 for the camcorder. It's like they want to rape your wallet for every nickle. Can someone direct me to a place I can download the drivers again. I wanted to use it before I move and I'm already packed. You would think Sony would have better customer care than that.
victoria vain
Wed, 24 Jan 2007 19:32:38 -0800
I really need the software too. I have to make a movie soon. I can't transfer video to my computer! PLEEZE someone find a link.
peter
Wed, 24 Jan 2007 21:16:58 -0800
I moved to my new house and forgot the application package of Sony DCR-HC36 camcorder. I went to sony show room and they refused to give it to me. Can any body please help me in getting the software CD to stream the videos.
srikanth
Thu, 25 Jan 2007 01:20:02 -0800
Go to Sony Asia Pacific Support Website in the upper corner place your model and then enter... in the next page it will show the link to the USB Driver...
Guillermo P
Wed, 28 Feb 2007 12:43:44 -0800
Nothing seems to work, It'is time to think in another company products.
Francisco Cardozo
Thu, 01 Mar 2007 07:24:59 -0800
GRacias Guillermo, encontre los drivers en esa pagina...
FERNANDO
Fri, 02 Mar 2007 11:13:24 -0800
Thanks was looking for this one too. Kind of funny that the Asia site had it and not the american site. Grrr Sony trying to squeeze every penny out of our pockets
Ariel
Fri, 09 Mar 2007 11:52:49 -0800
i can,t get the stupide driver dcr-hc36 .....is not comppattible with windows vista i dont wanna buy the software again what can i do
pamela
Wed, 14 Mar 2007 21:23:46 -0800
http://download.css.ap.sony.com/downloads/electronics/sw/sonyhb2.exe
Attached File: sonyhb2.exe (16 KB)
anonymous
Tue, 20 Mar 2007 14:26:57 -0800
http://download.css.ap.sony.com/downloads/electronics/SW/USBDRVEN.EXE
Attached File: USBDRVEN.EXE (2 MB)
anonymous
Tue, 20 Mar 2007 14:35:51 -0800
This download didnt even do anything.
http://download.css.ap.sony.com/downloads/electronics/sw/sonyhb2.exe
Michael
Thu, 29 Mar 2007 11:14:14 -0800
Rather it did not install anything that I could see!
Michael
Thu, 29 Mar 2007 11:29:41 -0800
j'ai dcr-hc36
je veux drivers pour windows wp
pourquoi usb de la cam ne fonctionne pas
marci
lagwira
Sun, 01 Apr 2007 07:34:40 -0700
I have the disk, you can buy it from me for $15. Postage paid.
Mat
Tue, 10 Apr 2007 18:07:15 -0700
Howcome they don't list drivers for VISTA, that is the problem, win xp drivers don't work, they don't even list vista anyhwere in sony's drivers list, dam sony.
rob dawe
Sat, 21 Apr 2007 17:04:10 -0700
Hello I am here because I have the CD and I am trying to get it working for a friend....the CD seems not to have any connection with the webcam just software that doent sem to reconise the camer. I will (as I also went to sony site ) down load this one for whom ever want it as I hate being charged for drivers also. Just let me know where or whos ftp to put it onto. I am wondering also if it is a boggy camera as sony does normally have drivers...they are thai friends I am in thailand but australian I brought the camera back to my place to see what I could do, they also did not recieve an instuction book...between all yur troubles and mine I as I say wonder if it is a real sony camcorder or maybe a copy, not imposible here in asia. Anyway let me know if you want the software I will as I say download it toan ftp. I have the webcam picture package, I will see if I can download it now....I cant as the limit is 5mb..so if anyone deeds it email me at [email protected] with DVR-HC36 in the subject line. Regards Fiona
This is the sony message I got
266675501
PICTURE PACKAGE SOFTWARE
Picture package software version 1.5.1 for Handycam
Currently In Stock: Yes
Unit Price (in USD): $29.95

FionaLeMaitre
Mon, 30 Apr 2007 11:29:21 -0700
i reget ever buying anything from sony. their customr service is totally crap. i need the cd rom for my camcorder cos the other gott spoilt and they just dont have it. am totally disappointed in them big time. i hope they see this.
abi
Tue, 01 May 2007 14:37:21 -0700
Dear all
please help me for download all drivers of my handycam model no DCR-HC36 for windows xp pro. sp2
Thank You All
Sanjeet
Mon, 14 May 2007 00:42:30 -0700
I am having no luck in the purchase of the sony picture package for my DV92

Lorrie
Mon, 14 May 2007 08:49:49 -0700
Guys, I thought you needed a driver as well, you don't. The driver is built into the camera. You don't need any external driver to download. What you need to do is:
Go to your main screen. Click the FN button on the bottom right.
Then Click the Menu button. Use the down arrows to the SETUP MENU OPTION, right above the ETC key. Click EXEC button and use the down arrow to move to USB STEAM option. This option may be turned off. Click EXEC button to turn on the USB STREAM.
Connect your camera to the USB & to your system. When you do that the computer will recognize your cam and the drivers will start to load. Best of luck.
Dennis Franklin
Mon, 21 May 2007 09:04:24 -0700
Dennis Franklin,
What OS are you running that you didn't need any drivers for the USB streaming? I've used this cam for the past couple weeks on another computer but my laptop wouldn't install it as a USB device.
Scott Broadbent
Mon, 21 May 2007 22:40:41 -0700
If you are running Windows Vista,try this. If you look through your programs, and find the program that you want to run on Vista, Right click on it, and select properties. Then look for the Compatibility Tab. In there there should be a check box that says, "Run this program in compatibility mode for" Select this. Then in the drop down menu, select your operating system. This should help you
Littlemack
Wed, 30 May 2007 02:11:02 -0700
i figured it out, i also had the same problem with my vista. this is what you do. first you install it. then it's going to say not compatible with this current version of windows. then another text box pops up and asks you: install using recommended settings or this installed correctly (CHOOSE INSTALL USING RECOMMENDED SETTINGS) after you click on it you'll be able to install the driver to work on vista.
George Liu
Fri, 15 Jun 2007 06:45:33 -0700
thank you very much for Hc36 Sony cam driver
DC
Thu, 21 Jun 2007 09:22:14 -0700
hey i was wondering if there is any website where i can download the Picture package software version 1.5.1. i need the software to transfer the videos to my computer.
James
Fri, 22 Jun 2007 14:35:26 -0700
Sony products suck........
i make products for Sony corporation, when they get products from us they
put a lot of pressure, but when its their part to deliver , they are utter disgusting..
Joy
Sun, 24 Jun 2007 23:35:15 -0700
Dennis Franklin, THANK YOU! You just saved me a ton of frustration. Glad I stumbled across this site first and read through to the bottom.
Sarah Conway
Sun, 08 Jul 2007 16:26:09 -0700
Thnks Guillermo P., I had the same problem with my DCR-HC42 Camera, the driver was right! It's great that you knew about Asia site...are you Chinese?
Thanks a lot! =D
Tere De la Rosa
Tue, 17 Jul 2007 08:51:50 -0500
Ok, i keep trying to go to the asia site and it keeps telling me "can't find server" HELP!!
tks
more than upset
Sat, 21 Jul 2007 03:58:14 +0000
We are do not install sony handycam DCR-HC36 Driver in Windows Vista So please do needfull in this matter.
Pankaj Parmar
Mon, 06 Aug 2007 14:31:45 +0000
I have the disc, but Vista will not open it. I have driver in old XP, tell me how I can safely help you getting this.
Dean Anthony
Tue, 07 Aug 2007 13:55:40 +0000
I have dcr-hc36 dv cam sony and i have hp laptop pavilion entertainment pc with windows vista, i am 66 years old citizen is there any one can help me how to transfer movie from cam to dvd disk via laptop plus looks like i have driver problem too pl help in detail with step by step with big thanks
baig
Mon, 03 Sep 2007 06:03:12 +0000
baig, start with the following three articles:
Connecting Your Digital Camcorder to Your Computer
Capturing DV with Microsoft Windows Movie Maker
Authoring DVD with Microsoft Windows Media Center
Chieh Cheng
Mon, 03 Sep 2007 07:15:20 +0000
here's the deal guys... I just got off the phone with Sony about this issue. The HC36 uses video streaming technology. The v.s. is not supported by Vista. They are currently trying to figure out how to create a patch for it. However, if you use Firewire, this is not an issue. The tech said that the firewire should work just fine but the usb will not. She didn't really seem to care when I told her that since I don't have a firewire input, it seems like I now have a $400 doorstop. This sucks....
Eric
Fri, 14 Sep 2007 16:48:45 +0000
Dennis Franklin for President!
Tim
Mon, 17 Sep 2007 01:30:41 +0000
Dennis Franklin, you're my hero!
Melanie
Thu, 04 Oct 2007 12:18:43 +0000
I must be a genius... Sony Asia Pacific : USB Driver for Windows Operating System
Arthur
Sun, 11 Nov 2007 16:13:43 +0000
You're not a genius, you just didn't read all of the previous comments to show someone already had that idea.
Thank you to Dennis, it worked for me!
Kaitln
Tue, 20 Nov 2007 03:16:52 +0000
wow, that was it, thanks Franklin! you just saved me a days worth of headache!
Abby
Tue, 25 Dec 2007 14:22:08 +0000
I just found a way to import photos from Sony cam to Vista. When you plug in the camera, it will say USB connecting. Press MENU for other options and select the mode PicBridge. It should recognize your camera automatically.
ej185
Sun, 30 Dec 2007 05:09:21 +0000
Thanks for the ideas here i managed to download my xp pro usb divers for DCR - HC36 sony Handy cam
The asia site is friendly than the USA ssony site
USB Streaming Function Patch for Windows XP
You can also download here
munlai
Munlai
Sun, 30 Dec 2007 20:36:15 +0000
I have a DCR-HC36 that I purchased last year, but my dell bombed and they sent a new computer with Windows Vista on it. Does anyone know where I can download the driver for Windows Vista.
KYLE
Sun, 30 Dec 2007 21:45:10 +0000
can i download software for a sony handycam dcr-hc36
Anita
Wed, 02 Jan 2008 03:18:42 +0000
Here's the driver that Sony has on their Asian site, but nowhere to be found on the USA site. This driver was used for my DCR-HC26 model.
Dennis Franklin
Tue, 08 Jan 2008 18:34:52 +0000
Hi,
I downloaded the drivers for my HC36, but I got a warning message saying something like the software was not 'approved' by Microsoft, and could cause my system to become unstable or get viruses? Anyone else see this... my computer is acting strange now.
Also, after downloading the software. when I click on 'Picture Package Menu' another error message pops up and says: 'X to run this application, you need to install Macromedia Flash Player First!"
And I HAVE Macromedia, the latest Flash Player!
It will not even open!!
GRRRRrrrrrrrrrrrrrrrr
Karla
Wed, 09 Jan 2008 16:42:21 +0000
When I say 'it will not open', I am referring to Picture Package!
Karla
Wed, 09 Jan 2008 16:52:25 +0000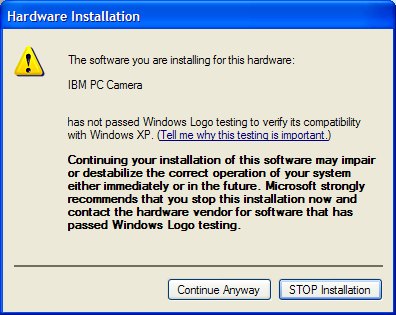 Are you talking about a warning like the dialog box above? For many drivers, you'll have to click on "Continue Anyway". Many drivers haven't gone through Windows certifications. The only way to get around it is to not use the USB port and use the Firewire port instead.
To solve the Macromedia Flash Player problem, see the "Problem running Picture Package" thread in the TrackBack below.
Chieh Cheng
Thu, 10 Jan 2008 07:37:19 +0000
hello all! I've got a dcr-h36, i lost the cd AND i'm running Vista. I've read all the posts and have tried all the vista advice and it won't work for me. is there another solution to this problem? How about Firewire? sounds interesting.
-chieh cheng-
Can you give a brief explaination of "Firewire". will that help vista recognizing my handycam? I would really like to try that. Thank you.
irene
Fri, 11 Jan 2008 06:23:56 +0000
i just checked out the sony website and found that they "say" they do have an update for Vista that is downloadable. They do require three things before letting you download online.
1. camcorder model no.
2. camcorder serial no.
3. the part # listed on the cd-rom that came with the package
my problem is, i lost my cd-rom so i couldn't complete this. if any of you visat users still have your disc, try this and post the outcome. see if vista is compatible with the dcr-hc36. If it is, could one of you be so kind to send me a copy of the files so i can install it? [email protected]
Thanks!
irene
Fri, 11 Jan 2008 06:41:46 +0000
i forgot to list the link to the sony site. here you go:
Sony eSupport - DCR-HC36 - Software Update & Drivers
i'm crossing my fingers that this will work!
irene
Fri, 11 Jan 2008 06:43:29 +0000
Take a look at these two articles regarding Firewire. If you have questions about it, feel free to ask.
Chieh Cheng
Fri, 11 Jan 2008 10:45:42 +0000
i found 1 at sony aisa pacific for type dcr-hc36 oh and thats not my real email
bubalisios
Sat, 12 Jan 2008 01:45:50 +0000
may kindly provide me sony handycam dcr hc36e model vista driver,

sudhir kumar
Mon, 21 Jan 2008 11:44:11 +0000
**** ATTENTION *****
DRIVER CD CODE = 2-666-755-01
use that on sony's support site to download the latest driver
anonHero
Wed, 30 Jan 2008 03:59:49 +0000
Where can I find the software bundles accessories that came with the camcorder dcr-hc36? I lost the original CD?
Gal
Wed, 06 Feb 2008 00:42:35 +0000
Unfortunately i was able to download said driver with the code, but it's asking for the original cd, unfortunately i'm at a lost as to finding it.
mike
Sun, 10 Feb 2008 20:40:48 +0000
I think Microsoft created Vista in cooperation with other manufactures to make all previously made cam corders obsolite so that you'll have to by the newer and more expensive DVRs
anonymous
Wed, 05 Mar 2008 02:58:42 +0000
It works...
"Go to Sony Asia Pacific Support Website in the upper corner place your model and then enter... in the next page it will show the link to the USB Driver... " nothing out of this world as simple as clicking the mouse couple times
Hugo
Sat, 22 Mar 2008 13:24:57 +0000
I bought a DCR-HC36 and the software it came with is for windows XP , so i downloaded the picture package and it wont find my camera so i changed the propertes of the setup installer to compatiblity Windows Xp Service Pack 2 and it still wont work
nick
Sun, 06 Apr 2008 20:32:10 +0000
Just wanted to tell eveyone I had caught Sony in TWO lies, as well as discover for myself the TERRIBLE practice of trying to cull and squeeze more money out of it's already existing customers. When asked WHY the driver was not offered for download, they couldn't give a decent answer. I can. They are OPPORTUNISTS!!!
Thanks SO SO much for the hint to go to the Asia support site!!! Helps me out BIG time!!
I urge EVERYONE to at the very least CALL sony, ASK for the Customer Relations, and make a statement of your experience and how it is VERY poor business to upset so many customers by trying to make a buck.
Seriously, is that measley $30 really worth an existing customer to NEVER buy another sony product ever again? I know I WONT!
-TommyRay

TommyRay
Mon, 07 Apr 2008 16:53:35 +0000
Hey everyone, this cd part no. works 2-666-755-01, i tried it the first time and it said wrong part number, then I copied and paste it into the field and it said ready to download, I chose the Windows Vista and software i needed and everything worked, but very important, when it says wrong cd part number, cop and paste it again and remove all the dashes and make sure there is no spaces. good luck all..
Ooops got another idea. here is the link of the download try it out.
"Picture Motion Browser Ver.2.0.13" Download
Army
Sat, 03 May 2008 03:50:41 +0000
TommyRay!!!! you are the best help ever!!!!! thanks so much!!!!!!!!!!!
Akshay
Thu, 05 Jun 2008 17:00:17 +0000
w here can get the software and driver for handycam DCR_HC36 in windows vista send me the proper link
thank you
ataullah
Sun, 08 Jun 2008 11:11:03 +0000
Connecting Sony Handycam to Windows Vista Via USB
Chieh Cheng
Sun, 08 Jun 2008 18:54:30 +0000
I want software for install in my labtop abaut my handycam DCR-HC36
Aiyob
Wed, 06 Aug 2008 03:21:51 +0000
Since the installer 3 post before this doesn't work with people with no cds(like me) can download this file that I got from a iso on internet. this one is .rar and the one below is .zip ENJOY =D
Haloflooder
Sat, 18 Oct 2008 23:23:18 +0000
yeah... blah blah blah(i'm saying this because comment was too short) ok i'm done... Here's the .zip file ENJOY!!! =D
Haloflooder
Sat, 18 Oct 2008 23:34:48 +0000
Thanks anon hero I used the code and it said ready to download!
happycamper
Sat, 25 Oct 2008 23:52:31 +0000
Hey, here's my situation. I bought the handycam DCR-HC26 quite a while ago. After moving houses, I realized I left my CD-rom at the old one and there is no way for me to get it back. I've downloaded all I can, but it still says I need the Picture Utility... or whatever its called.
Any help?
ryan
Sat, 13 Dec 2008 20:14:17 +0000
2-666-755-01 the number works thanks its awesome bt works only the numbers dud
266675501
maatcool
Sat, 10 Jan 2009 02:29:13 +0000
bonsoir ; j'ai ma sony DCR-HC36 Handycam . j'ai besoin de son pilote
pour tout application.
merci
cristopher
Sun, 22 Feb 2009 17:11:00 +0000
I had the same problem I managed to capture video using using Movie Maker after installing the USB Drivers listed above but the problem is that I don't get good quality video my HP Notebook Has Built in S-Video can anyone tell me how to Capture vidoe using that built in S-Video?
Asmatullah Kohistani
Sat, 04 Jul 2009 13:07:27 +0000
The S-video port on your laptop is for output only. You can't capture composite video with it.
The USB port only provides a video resolution of 320x240, which is quite low. To get the highest quality video, you will need to use the Firewire connection. If you HP notebook doesn't have a build-in Firewire port, you can get a Firewire adapter.
Chieh Cheng
Sat, 04 Jul 2009 18:24:16 +0000
DON'T BUY ANY SONY PRODUCTS. SONY IS MAKING MONEY BY SELLING THE REQUIRED ACCSESSORIES ONLINE. THE DEALERS ARE INTENTIONALLY TAKING OUT SOME OF THE ACCSESSORIES WHILE SHIPPING OR WHILE BUYING DIRECTLY AND MAKING THE CUSTOMER'S LIFE MISERABLE.
I GOT THE HANDYCAM WHICH WAS SHIPPED WITHOUT THE SOFTWARE CD AND WHEN REQUESTED SONY, THEY ARE ASKING TO PURCHASE IT ONLINE. IF SONY REALLY WANT TO SERVE THE CUSTOMERS THE SOFTWARE SHOULD BE MADE AVAILABLE FOR AT LEAST THE PURCHASER. THEY SHOULD COLLECT THE REQUIRED INFORMATION TO VERIFY WHETHER THE PERSON ASKING THE SOFTWARE IS THE PURCHASER OR NOT AND THEN PROVIDE THE SOFTWARE.
I WOULD LIKE TO ADVISE PEOPLE NOT TO BUY SONY PRODUCTS, THERE ARE HELL LOT OF OTHER PRODUCTS WHICH HAVE VERY GOOD CUSTOMER SUPPORT IN THE MARKET COMPARED TO SONY.
Srinivas
Mon, 06 Jul 2009 08:08:30 +0000
I have the dcr-hc36 and this info just saved me 30$ i would have bought the software unnecessarily. Follow the instructions, and try video capture in movie maker after drivers installed.
Matt H
Sat, 08 Aug 2009 02:00:25 +0000
Thank you for the solution and the number works /en
Merci beaucoup pour la solution le num marche /fr
marcoledragon*
Wed, 25 Nov 2009 15:55:21 +0000
Hi guys,
I just downloaded the Picture Motion Browser® Software (Replacement for Pixela® Picture Package Software) for DCR-HC26 for FFFFRRRREEEEEEEE!!!! ;)
http://findfiles.com/list.php?string=SPU_Installer0907b.exe& . . .
Kris
Sun, 31 Jan 2010 21:29:46 +0000
I managed to get the computer to recognize it, but I can't find where to get the video onto my computer. Any help? Thanks.
Cheesekake
Mon, 24 May 2010 22:37:16 +0000
I downloaded all the drivers and stuff, and I made sure that the USB streaming was on, but when I go to the Sony Picture Utility, it tells me it cannot find "source media for importing" Can some one help? Many Thanks.
Frustrated
Mon, 24 May 2010 22:52:48 +0000
I bought the Sony Handycam DCR-HC36 a few years ago and am very happy with it; however, when I bought a laptop, I am unable to import video directly into the laptop. I have the camera, manual, firewire and USB wire - no software disc that I am told I need. I went to Sony to download it and I was asked for the CD Key which I do not have. On the phone with Sony Tech they told me to go to the Sony Experience store and buy it, but once there they said they do not sell them. Please email me the CD Key, so I can download the driver - thanks!
Robert
Wed, 10 Nov 2010 17:30:34 +0000
robert ,
you can try this key
2-666-755-01
anonymous
Mon, 31 Jan 2011 05:09:36 +0000
Use a 4pin firewire to 6pin firewire cable and windows should automatically load a driver to capture your footage from a cassete tape.
Patrick
Mon, 21 Feb 2011 00:58:23 +0000
DENNIS FRANKLIN YOU ARE MY HERO. srsly. my hero. marry me.
luan
Thu, 12 May 2011 16:47:27 +0000
nada aun descargo los intaladores y todos terminan pidiendo el CD que ago D:?
D: Eddy
Fri, 26 Aug 2011 20:05:30 +0000
OK just to see if there is any help out there on this, I have been given this video camera Sony DCR-HC36 and just want to copy the video on the tapes onto my laptop which is a windows 7 64bit. There is no key or cd rom with it. Does anyone know where I can now download the software as a lot of the links above no longer seem to work. Thanks!
Also read the comment about the driver being on teh camera but on this model it doesnt havea FN option so not allowing me to set anything like that :(
Dave
Dave
Tue, 10 Jan 2012 23:37:04 +0300
Hi
I have sony handycam dcr_hc36 and need driver usb to connect to win7
N dr
Thu, 31 Dec 2020 03:53:49 -0800

Add Comment |

Related Links |

TrackBack


Related Content
Did your message disappear? Read the Forums FAQ.
TrackBack only accepted from WebSite-X Suite web sites. Do not submit TrackBacks from other sites.
Send Ping | TrackBack URL | Spam Control
Title: Problem running Picture Package
Weblog: Camera Hacker
Excerpt: Download the Picture Package Flash Update. It "Resolved the problem that 'Picture Package Menu' cannot be started in the environment that only Macro Media Flash Player Version 8 is installed and Version 7 or previous is not installed."
Tracked: Thu, 10 Jan 2008 07:36:26 +0000
Title: Fixing the Windows XP Firewire Problem
Weblog: Camera Hacker
Excerpt: I've had a similar problem with a Sony HC42 camcorder with my Windows XP Dell. After three years of connecting it to my Dell via firewire, a month ago Windows XP quit recognizing the camcorder. On the device manager, there was a yellow mark by the camera's item as unknown. After long searches, inclu . . .
Tracked: Fri, 02 May 2008 17:00:05 +0000
Spam Control | * indicates required field
Messages, files, and images copyright by respective owners.