Add Comment |
Related Links |
TrackBack

Related Content
Microdrive disassembly
I want to take apart my 1GB microdrive. It has three point screws, rather than the standard philip heads. Anyone know where to get a 3 pointed micro screwdriver.
Chieh Cheng
Wed Dec 15 15:51:40 PST 2004
The screw looks like this . . .
Attached Image: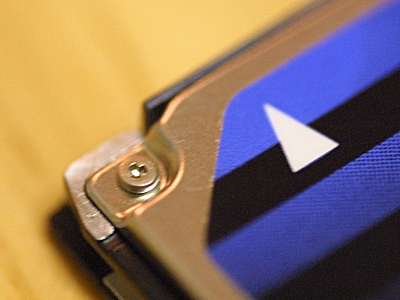 Microdrive Screw.JPG
Chieh Cheng
Wed Dec 15 23:37:23 PST 2004
I don't really want to disassemble the entire Microdrive. I really just want to get to the circuit board and examine it. From the following exploded view, it looks like the circuit board is on top of the drive and the platter starts from the bottom. Anyone know if the circuit board exposes the platter?
Attached Image: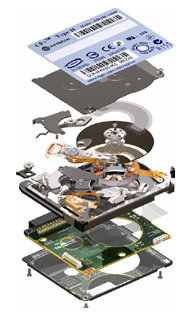 hitachi_microdrive_exploded.jpg
Chieh Cheng
Fri Dec 17 21:39:45 PST 2004
Did you ever find one?
I am also looking for one.
Thanks
Michael Prevallet
Thu, 05 May 2005 18:14:58 +0000
I posted a link to some sources at here.
Chieh Cheng
Fri May 6 11:30:12 PDT 2005
Ok, I found the answer to whether taking off the circuit board exposes the platter. See this excerpt:
"To get a look on the PCB remove carefully the Sticker on the Side of the MD !!without!! the "breath hole", there you can see 5 screews, after removing the screews you have the PCB in your hand and the diskdrive by itself is still vacuum sealed. Now take your multi and find the right resistor. On my first test i removed a wrong one and my MD died. So I cant find the right one anymore... Good Luck!" - Kopf2k on studio2f: Size matters
Chieh Cheng
Thu, 03 Jul 2008 17:35:32 +0000
Add Comment |
Related Links |
TrackBack

Related Content
Did your message disappear? Read the Forums FAQ.
TrackBack only accepted from WebSite-X Suite web sites. Do not submit TrackBacks from other sites.
Send Ping | TrackBack URL | Spam Control
Title: three point screwdriver
Weblog: GearHack
Tracked: Thu, 4 Aug 2005 18:22:43 -0700
Title: Microdrive Disassembly Post
Weblog: GearHack
Excerpt: Chieh: I saw your post while searching today and was curious about a couple of things... 1) Did you ever successfully get the microdrive apart? If so, I would guess that removing those 3-pointed screws did NOT expose the actual platter and just showed you the circuit board. 2) I bought a US . . .
Tracked: Wed, 31 Jan 2007 15:06:18 -0800
Spam Control | * indicates required field
Messages, files, and images copyright by respective owners.