Add Comment |
Related Links |
TrackBack

Related Content
Shortage everywhere! Sony MSAC-MCF1N Memory Stick Duo Adaptor for CompactFlash Slot
While researching the Sony DCR-HC90 MiniDV Handycam, I've noticed a cool accessory . . . Sony MSAC-MCF1N Memory Stick Duo Adaptor for CompactFlash Slot . . . this accessory allows you to use a Memory Stick Duo into a CompactFlash slot. To me, this adapter is the best way to go, because I have several digital cameras that use the Memory Stick and several digital cameras that use CompactFlash. I would be able to purchase Memory Stick Duo and use them in all of my cameras.
So when I tried to place order for the MSAC-MCF1N adapter, I noticed they are out of stock everywhere! Even the SonyStyle web site stopped selling it. Is this product so popular that it is sold out everywhere? Unlikely, the adapter has only been out on the market for a short while (less than 1 month as far as I know). Plus, searching for this product on Google showed no results from personal reviews or even just a blurb (so, maybe this post would be the first). When I requested a quote from Adorama, they sent me the following message:
Due to Manufacturers restrictions, we are unable to sell this item on-line.
This quote concerns me, because it does seem to indicate that Sony doesn't want to distribute this product. My question is why? Could there be no market for it, so that Sony would loose money? If so, why restrict it? They can simply let inventory run out. Sony has done it numerous times before, such as with the Sony VAD-PEA lens adapter, in the past without actually restricting sales. Could it be that Sony is afraid it would make the CompactFlash more popular? I don't know, but I figured if I could get my hands on this adapter, I would be purchasing only Memory Stick Duos in the future. So what's the real reason?
Attached Image: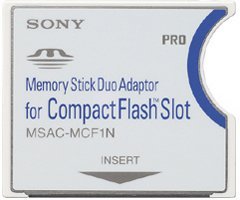 MSAC-MCF1N.jpg
Chieh Cheng
Mon, 27 Jun 2005 12:48:30 -0700
I did some more digging, Sony's eSupport site has a support page for the MSAC-MCF1N. The support page has a Compatibility Listing for the MSAC-MCF1N Memory Stick Duo Adapter for Compact Flash Slot that was dated back to 12/12/2003.
From there, I found a link to Sony's Direct Accessories & Parts Center (DAPC), where the MSACMCF1N MEMORY STICK DUO ADAPTOR is shown to be "Currently In Stock"!
I'm going to try ordering one and see if it shows up.
Chieh Cheng
Mon, 27 Jun 2005 19:27:09 -0700
I ordered the MSAC-MCF1N adapter from two different places. I ordered one from Best Buy, which showed "Status: Backordered". I also ordered one from Sony's eSupport site, which showed "Currently In Stock".
They both showed up at my doors within a few days of each other. The Best Buy order was filed on 6/27 and shipped on 6/29. It's obvious that there are tons of stock everywhere. Yet, Sony wants to control distribution and give the perception that it's hard to order. I have no idea why.
Chieh Cheng
Sun, 10 Jul 2005 01:18:39 -0700
hi Chieh!
thanks for this VERY interesting post. I'm currently and desperately searching for this device. Unlike you, i'm not a photographer, although I have my own DSC-T1 (waow device!). I'm a musician who just got his new toy called da GNX4 (more info there www.gnx4.org). Basicaly a multiple effect processor and digital recording studio. Well, that's pretty cool you'd say. But on what drive do i get my files written given that there's no internal memory? On a bloody CF card! And I'm a bloke who uses only Sony devices (tv 'puter mp3 all players and camera). So why bother with CF when I've got memory stick everywhere?? Well it looks like the musicians industry is not really willing to use memory sticks as standard memory cards on their machines. Why? Dunno. You might want to investigate, I won't. So I need this MSAC-MCF1N quickly to start recording my own tracks and send them over the net to my guys who wants this bits of music from me on their 'puters. Can' t get it.So far no shop in london have it in stock appart from KK electronics for ... 44GBP !!! On line, i haven't found anything but 'out of stock' phrases. I sent an email to an US online digital shop? I NOW WAIT FOR AN ANSWER !!
What price did you get yours? Do you sell any of them ;) ?
thanks again for your great comments !
best regards
samuel
sam papon
Sun, 26 Mar 2006 12:54:12 -0800
I paid about $60 to $70 US dollars for mine. It's costly, but quite worth it! If you ever find a MSAC-MCF1N available, I sugget you buy it. I only got one that I use myself, so I won't be able to sell it to you. Try searching on Froogle. I believe "Computer Memory Store" is showing that it's available in London for 23 English pounds. Good luck. ;-)
Chieh Cheng
Sun, 26 Mar 2006 21:35:19 -0800
While searching for "memory stick to compactflash adapter", I found Mittoni in Australia. This retailer has "Memory Stick Pro Duo MSPD to CF CompactFlash Card Adapter Type II". They seem to ship world-wide. And the US price for the adapter is $21.27.
Chieh Cheng
Mon, 27 Mar 2006 10:34:59 -0800
Samuel: Pixmania have it in stock for £36.
drbob
Sat, 20 May 2006 01:38:03 -0700
Hi there Mittoni in Australia say that this adapter only accepts cards up to 128mb. can anyone confirm using a larger card than this in here? will the new Sandsik ultra cards work in this adapter? i am looking to use the adapter in my Konica Minolta 5D together with high capacity cards.
Wynand Venter
Sat, 16 Sep 2006 09:28:07 -0700
I've heard that Sony has now released a replacement adapter for the MSAC-MCF1N. The new adapter is AD-MSCF1. And it looks like below . . .
Don't know where to get one though.
Attached Image: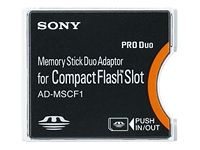 AD-MSCF1.jpg
Chieh Cheng
Mon, 29 Jan 2007 15:00:59 -0800
I would like to get the new AD-MSCF1 as well. Is there any online store that will ship it to Canada? The U.S. sony website only service U.S. and wouldn't ship it anywhere else. :(
Ju
Wed, 21 Mar 2007 07:19:50 -0800
You can now get an AD-MSCF1 from Amazon.
Chieh Cheng
Tue, 14 Aug 2007 01:44:34 +0000
Anyone know if you can go the other way around? Use other memory types in place of the Pro Duo for say a PSP?
AndrewB
Thu, 31 Jan 2008 17:51:14 +0000
AD-MSCF1 ... I have one. It is slow, though, 4-5 MB/s transfer rate with a Pro-HG Duo card capable of 30. But it works fine.
Got it by wheedling it out of a local Norwegian brick-and-mortar Sony Center store at great expense... buying them online is hopeless.

Gnørf.
Wed, 12 Mar 2008 21:14:31 +0000
i got mine from ebay roughly $40 au
nathan
Tue, 04 Nov 2008 07:59:43 +0000
Add Comment |
Related Links |
TrackBack

Related Content
Did your message disappear? Read the Forums FAQ.
TrackBack only accepted from WebSite-X Suite web sites. Do not submit TrackBacks from other sites.
Send Ping | TrackBack URL | Spam Control
Title: Sony MSAC-MCF1N Memory Stick Duo Adaptor for CompactFlash Slot
Weblog: Camera Hacker
Tracked: Tue, 20 Sep 2005 15:57:07 -0700
Title: Compact Flash to Memory Stick Interface?
Weblog: Camera Hacker
Excerpt: Sony had discontinued sales of their MSAC-MCF1N (Compact Flash to Memory Stick Adapter). Are there any electronic guys out there that have a schematic on the pinout interface from the 50-pin CF to the 10-pin MS? Regards, Rob
Tracked: Mon, 27 Mar 2006 10:30:50 -0800
Spam Control | * indicates required field
Messages, files, and images copyright by respective owners.