How to get the FujiFilm Advantix Image-Scanner AS-1 Filmscan-it to work with Windows XP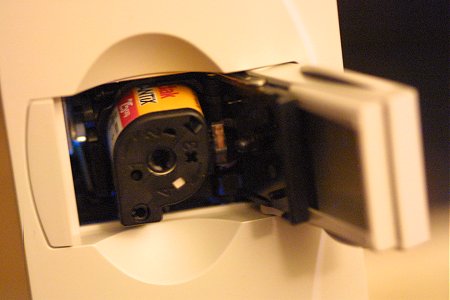 The FujiFilm Advantix Image-Scanner AS-1 Filmscan-it is an easy-to-use APS film scanner. It allows consumers to scan directly from their 24mm Advanced Photo System film cartridges onto their computer. I have been using this scanner to scan my APS film collection. As my older computers are being obsolete, I have started to replace them with newer hardware running the Windows XP operating system. My installation CD came with parallel TWAIN driver version 1.0.2 for Windows 95/98. When I tried to install the FujiFilm AS-1 scanner on Windows XP, I got a surprising dialog box:

Perhaps, FujiFilm wanted to protect the user by letting them know whenever they tried to install the software on an older Windows operating system. (By the way, this scanner can also be used with Windows 3.1/3.11.) However, their good intention over-protected their users by preventing the driver, therefore, preventing the scanner, from working on newer Windows operating systems that are backward compatible with previous Windows versions.
Despite unable to install the driver, I was not about to give up on this dedicated film scanner for APS film. It is the best way to scan APS films into the PC automated. First, I went to the FujiFilm USA web-site, but had no luck. The AS-1 driver (1.52 MB) on this site was the same as the one provided on the CD and gave me the same error message. Apparently, FujiFilm has stopped supporting new software updates for this scanner. Next, I started searching on Google for a Windows XP driver. Sometimes, newer driver could be found from third party sources through other search engines. But newer XP driver for this scanner could not be found.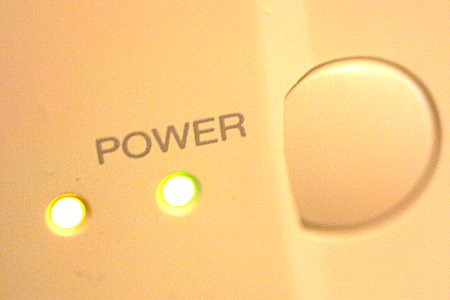 Finally, on the FujiFilm UK web-site, I found an AS-1 Twain Driver for Windows 95/98/ME (754 KB). It looked pretty grim, but I decided to download it and give it a try. To my pleasant surprise, this driver installed without a complaint on Windows XP. And I have scanned a roll of APS with it, prior to writing this article.
Installation Steps
Download the AS-1 Twain Driver for Windows 95/98/ME. Click Here.
Double click on the downloaded driver executable file. The executable unpacks the setup files into "c:\fujifilm\temp\AS1TwainDriver"
Double click the "SETUP.EXE" file in that direction. It installs the driver automatically.
Now plug-in and turn on the FujiFilm AS-1 scanner. It is ready to use with your favorite TWAIN compatible graphics software.
Found New Hardware Wizard
If you boot your Windows XP machine with the scanner plugged-in and turned on, even after you installed the UK driver, Windows XP will detect the scanner and try to help you install the driver with the Found New Hardware Wizard.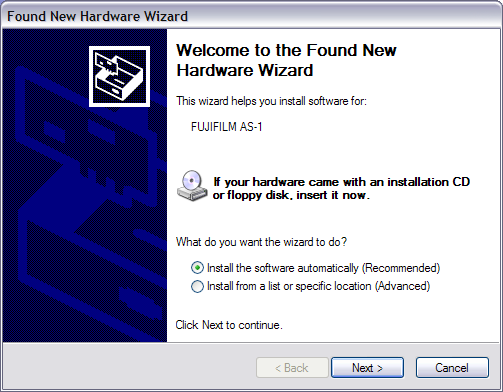 There are two ways to get around this nuisance. One, press the "Cancel" button; this method does not get rid of the nuisance permanently. The Found New Hardware Wizard comes back every time.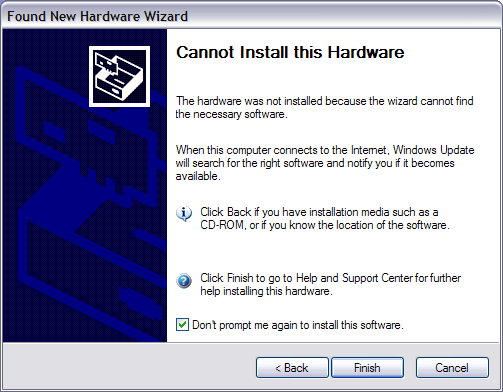 Two, press the "Next >" button until you get the "Cannot Install this Hardware" dialog. Check the "Don't prompt me again to install this software." Click on the "Finish" button. The Found New Hardware Wizard never bothers you again concerning the AS-1. And you can use the scanner with your graphics software at any time.
Related Links